Featured Book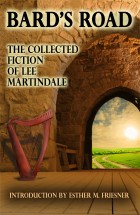 Twenty-nine short stories by Lee Martindale, including reprints from major anthologies and four never-before-published works. Introduction by Esther M. Friesner, cover art by Melanie Fletcher.
Featured Member
Alma Alexander
Alma Alexander is a novelist, anthologist and short story writer who currently shares her life between the Pacific
Northwest of the USA (where she lives with her husband and a cat) and the wonderful fantasy worlds of her own imagination.