Manifold: Origin by Stephen Baxter
Manifold: Origin by Stephen Baxter
(Available for Purchase)
Comments are closed.
Featured Book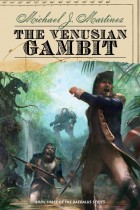 In the thrilling conclusion to the DAEDALUS trilogy, Lord Admiral Thomas Weatherby must defy the English crown and battle the French on Venus in order to stop an ancient evil from rising once more.
Featured Member
R.S. Mellette
Author of Billy Bobble Makes A Magic Wand and numerous short stories, R.S. Mellette also wrote "The Xena Scrolls" for Universal's web site for Xena: Warrior Princess. An episode of the same name became the 1st web-to-TV intellectual property.