Manifold: Origin by Stephen Baxter
Manifold: Origin by Stephen Baxter
(Available for Purchase)
Comments are closed.
Featured Book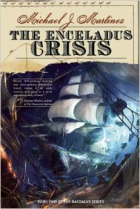 In this sequel to THE DAEDALUS INCIDENT, interdimensional intrigue rocks the solar system. In 2134, the first manned mission to Saturn is marred by an incursion from another universe, one where sailing ships ply the void between worlds.
Featured Member
Susan Forest
Two-time Prix Aurora Award finalist and winner of The Galaxy Project, Forest's stories appear in Analog, Asimov's, OnSpec, Beneath Ceaseless Skies, AE SF Review, and her collection, Immunity to Strange Tales. She edits for Edge Press.