Manifold: Origin by Stephen Baxter
Manifold: Origin by Stephen Baxter
(Available for Purchase)
Comments are closed.
Featured Book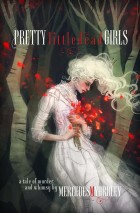 Bryony Adams is destined to be murdered, but fortunately Fate has terrible marksmanship. Mercedes M. Yardley's Pretty Little Dead Girls: A Novel of Murder and Whimsy is a dark, lovely fairy tale with lyrical language and a high body count.
Featured Member
Susan Forest
Two-time Prix Aurora Award finalist and winner of The Galaxy Project, Forest's stories appear in Analog, Asimov's, OnSpec, Beneath Ceaseless Skies, AE SF Review, and her collection, Immunity to Strange Tales. She edits for Edge Press.