Vitals by Greg Bear
(Available for Purchase)
Comments are closed.
Featured Book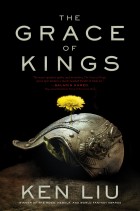 A silkpunk epic fantasy featuring a nobleman and a bandit who rebel together against tyranny only to find themselves on opposite sides of an ideological divide about the meaning of justice and honor.
Featured Member
Mark Niemann-Ross
Mark Niemann-Ross is a Portland-based writer of hard science-fiction and has appeared in Stupefying Stories and Analog; his upcoming novel is a murder mystery solved by a refrigerator.