Vitals by Greg Bear
(Available for Purchase)
Comments are closed.
Featured Book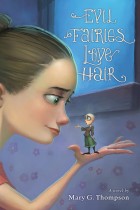 Grow 100 fairies, get your heart's desire. All you have to do is feed their ravenous appetite for hair. But don't let them near your own hair or break any of the other rules. There's a reason everyone calls them evil fairies …
Featured Member
Vera Nazarian
Vera Nazarian is a two-time Nebula Award Nominee, award-winning artist, and the author of the Cobweb Bride Trilogy and the Supernatural Jane Austen Series, in addition to numerous other novel-length and short works of fiction and fancy.