Vitals by Greg Bear
(Available for Purchase)
Comments are closed.
Featured Book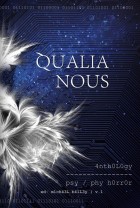 A literary blend of science fiction and horror, Qualia Nous contains short stories, novelettes, and poetry from established authors and newcomers from around the world. Featuring the imaginations of Stephen King, Gene O'Neill, William F. Nolan, and others.
Featured Member
Lisa Mason
Lisa Mason's new collection, Strange Ladies: 7 Stories features science fiction and fantasy shorts published in top magazines and anthologies worldwide. The San Francisco Book Review said, "This is a must-read collection."