Vitals by Greg Bear
(Available for Purchase)
Comments are closed.
Featured Book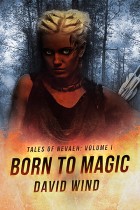 Long ago, a mythical nation known as 'America' died in the violence and radiation of the terrorist wars. Now the survivors dwell in a world of ritual and magic where ten dominions struggle for supremacy while a dark power rises to threaten them all.
Featured Member
Tracy S. Morris
When Tracy S. Morris was four years old, she wrote her first "novel" in crayon on the back of a newspaper and gave it to the postman along with an antique silver dollar so that someone could turn it into a novel. She is still waiting to hear back.
Recent Comments