Vitals by Greg Bear
(Available for Purchase)
Comments are closed.
Featured Book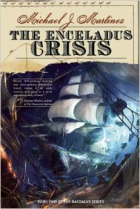 In this sequel to THE DAEDALUS INCIDENT, interdimensional intrigue rocks the solar system. In 2134, the first manned mission to Saturn is marred by an incursion from another universe, one where sailing ships ply the void between worlds.
Featured Member
Jim C. Hines
Jim Hines writes books about magic librarians, action-hero princesses, nearsighted goblins, flaming spiders, and more. (Generally not all in the same book.) He's also sold close to 50 short stories.