Vitals by Greg Bear
(Available for Purchase)
Comments are closed.
Featured Book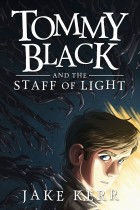 From Nebula & Sturgeon Award nominee Jake Kerr comes the Tommy Black trilogy, an action adventure series for readers of all ages.
Featured Member
Suzanne Church
Suzanne Church writes Science Fiction, Fantasy, and Horror because she enjoys them all and hates to play favorites. Her book "Elements: A Collection of Speculative Fiction" is published by EDGE SF & F Publishing.