Feral Cell by Richard Bowes
Feral Cell by Richard Bowes
(Available for Purchase)
Comments are closed.
Featured Book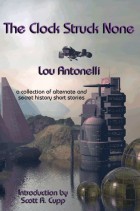 A collection of alternate and secret history short stories. From airships lost between universes, to golems winning the fight against racism, Lou Antonelli explains ways the world might have been. Includes Sidewise Award finalist "Great White Ship".
Featured Member
Vera Nazarian
Vera Nazarian is a two-time Nebula Award Nominee, award-winning artist, and the author of the Cobweb Bride Trilogy and the Supernatural Jane Austen Series, in addition to numerous other novel-length and short works of fiction and fancy.