Feral Cell by Richard Bowes
Feral Cell by Richard Bowes
(Available for Purchase)
Comments are closed.
Featured Book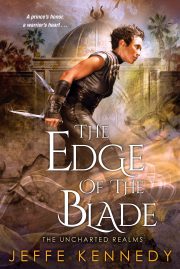 Jepp has been the heart of the queen's elite guard, but the ease and grace that come to her in fighting leathers vanishes when battles turn to politics-and she becomes the only envoy to a strange realm with nothing to rely on but her wits and knives.
Featured Member
E.D. Walker
E.D. Walker is the author of The Beauty's Beast Series of fairy tale retellings that begins with Enchanting the King. She's a total geek, a movie buff, and a mediocre swing dancer. E.D. lives with her husband and two spoiled housecats in LA.
Recent Comments