Feral Cell by Richard Bowes
Feral Cell by Richard Bowes
(Available for Purchase)
Comments are closed.
Featured Book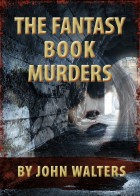 After a famous fantasy writer is murdered in his castle-like mansion, two unlikely investigators discover evidence of a serial killer. As they uncover the backgrounds of the victims, the truth resembles the writer's most bizarre and horrific fiction.
Featured Member
Susan Forest
Two-time Prix Aurora Award finalist and winner of The Galaxy Project, Forest's stories appear in Analog, Asimov's, OnSpec, Beneath Ceaseless Skies, AE SF Review, and her collection, Immunity to Strange Tales. She edits for Edge Press.