Moonrise by Ben Bova
(Available for Purchase)
Comments are closed.
Featured Book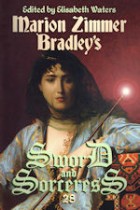 Edited by Elisabeth Water, the annual tradition continues with stories from Dave Smeds, Deborah J. Ross, Michael H. Payne, and others.
Featured Member
Michael J. Martinez
Michael J. Martinez is a veteran writer who decided, in an act of blinding hubris, to try his hand at science-fiction and historical fantasy…in the same book.