Moonrise by Ben Bova
(Available for Purchase)
Comments are closed.
Featured Book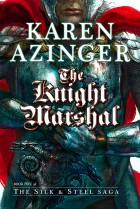 Sorely beleaguered, the Octagon Knights fight with valor, but this war is much more than a contest of swords…it is a battle of souls. The players are being positioned for the Battle Immortal, an epic struggle of Light and Dark.
Featured Member
Rachael Acks is a author, geologist, and dapper sir who writes steampunk mystery and adventure novellas for Musa Publishing. She's also had numerous short stories published. She lives in Houston where the bikes, twirls her mustache, and dances.