Moonrise by Ben Bova
(Available for Purchase)
Comments are closed.
Featured Book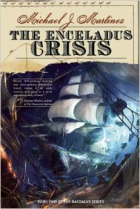 In this sequel to THE DAEDALUS INCIDENT, interdimensional intrigue rocks the solar system. In 2134, the first manned mission to Saturn is marred by an incursion from another universe, one where sailing ships ply the void between worlds.
Featured Member
Mercedes M. Yardley
Mercedes M. Yardley is a dark fantasist who wears stilettos and red lipstick. She is the author of the short story collection Beautiful Sorrows, the novella Apocalyptic Montessa and Nuclear Lulu: A Tale of Atomic Love and her debut novel Nameless. He