Moonrise by Ben Bova
(Available for Purchase)
Comments are closed.
Featured Book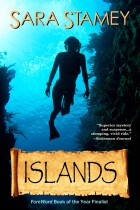 "Welcome to Paradise," archeologist Susan Dunne hears on arrival at the Caribbean island to research petroglyphs and investigate her brother's drowning. She follows dangerous clues in her psychic visions, leading to a violent cult and sunken treasure
Featured Member
Mark Niemann-Ross
Mark Niemann-Ross is a Portland-based writer of hard science-fiction and has appeared in Stupefying Stories and Analog; his upcoming novel is a murder mystery solved by a refrigerator.