Moonrise by Ben Bova
(Available for Purchase)
Comments are closed.
Featured Book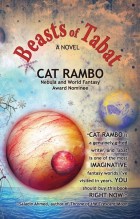 In a city torn with political strife, a boy named Teo and a female Gladiator try to find their bearings.
Featured Member
Laura Anne Gilman
Laura Anne Gilman is the Nebula-nominated author of the Vineart War trilogy, the "Cosa Nostradamus" urban fantasy series, and a few other works, including the occasional short story. Under the name L.A. Kornetsky, she also writes mysteries.