Moonrise by Ben Bova
(Available for Purchase)
Comments are closed.
Featured Book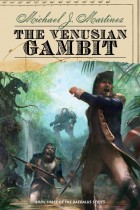 In the thrilling conclusion to the DAEDALUS trilogy, Lord Admiral Thomas Weatherby must defy the English crown and battle the French on Venus in order to stop an ancient evil from rising once more.
Featured Member
Teresa Frohock
Teresa Frohock is the author of the dark fantasy Miserere: An Autumn Tale and numerous short stories. Currently, she lives in North Carolina. She has long been accused of telling stories, which is a southern colloquialism for lying.