Moonrise by Ben Bova
(Available for Purchase)
Comments are closed.
Featured Book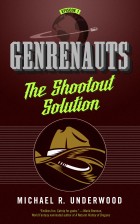 Episode 1 of Genrenauts, a series in novellas set in a multiverse where each other dimension is the home of a story genre (Western, SF, Romance, etc.). The Genrenauts travel between dimensions to find & fix broken stories to protect their home world.
Featured Member
Stephanie Feldman
Stephanie Feldman's debut novel, The Angel of Losses (HarperCollins 2014), is a Barnes & Noble Discover Great New Writers selection and one of the Washington Post's top five science fiction/fantasy books of 2014.
Recent Comments