Moonrise by Ben Bova
(Available for Purchase)
Comments are closed.
Featured Book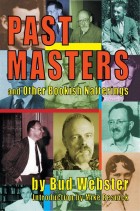 Past Masters and Other Bookish Natterings collects some of the very best of Bud Webster's columns and author profiles drawn from a broad knowledge of the field of literary science fiction and fantasy.
Featured Member
Sharon Lynn Fisher
Tor author Sharon Lynn Fisher is an RWA RITA Award finalist and a 3-time RWA Golden Heart Award finalist. She lives in the Pacific Northwest, where she writes books for the geeky at heart – sci-fi stories full of adventure and romance.