Featured Book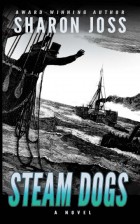 In this alternate history thriller, airships from across Europe converge on the Isle of Dogs for an air show. Among the crowd, a master thief, a Police inspector, and a former royal wizard dead set on kidnapping Queen Victoria of Britain.
Featured Member
Alma Alexander
Alma Alexander is a novelist, anthologist and short story writer who currently shares her life between the Pacific
Northwest of the USA (where she lives with her husband and a cat) and the wonderful fantasy worlds of her own imagination.