by Stephen Goldin
Sample of book available.
URL: http://www.smashwords.com/books/view/3417
Comments are closed.
Featured Book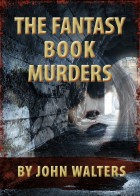 After a famous fantasy writer is murdered in his castle-like mansion, two unlikely investigators discover evidence of a serial killer. As they uncover the backgrounds of the victims, the truth resembles the writer's most bizarre and horrific fiction.
Featured Member
Lou Antonelli
Lou Antonelli is a modern speculative fiction author with classic sensibilities, honed by a long career as a newspaperman. His short story "Great White Ship" was a 2013 finalist for the Sidewise Award. He's had 81 short stories published since 2003.