by Stephen Goldin
Sample of book available.
URL: http://www.smashwords.com/books/view/3417
Comments are closed.
Featured Book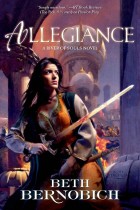 King Leos of Károví is finally dead. Ilse is now free to make the long journey back to where her story began, to complete the journey she attempted lives and centuries before and bring peace between the kingdoms.
Featured Member
Karen L Azinger is the author of epic medieval fantasy, The Silk & Steel Saga. The first five books are published and getting great reviews, The Steel Queen, The Flame Priest, The Skeleton King, The Poison Priestess and The Knight Marshal.