by Stephen Goldin
Sample of book available.
URL: http://www.smashwords.com/books/view/3417
Comments are closed.
Featured Book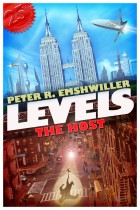 Originally published by Bantam Spectra as The Host, this is the 25th Anniversary edition of the cyperpunk classic, now available for Kindle!
Featured Member
Vera Nazarian
Vera Nazarian is a two-time Nebula Award Nominee, award-winning artist, and the author of the Cobweb Bride Trilogy and the Supernatural Jane Austen Series, in addition to numerous other novel-length and short works of fiction and fancy.