Trinkets by Tobias S. Buckell
Trinkets by Tobias S. Buckell
URL: http://www.fictionwise.com/servlet/mw?t=book&bi=1675&id=52221
Comments are closed.
Featured Book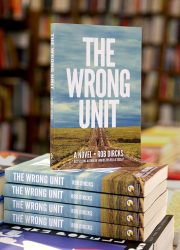 Rob Dircks, bestselling author of Where the Hell is Tesla?, has a "unit" with a problem: how to deliver his package, out in the middle of nowhere, with nothing to guide him. Oh, and with the fate of humanity hanging in the balance.
Featured Member
Michael R. Underwood
Michael writes across the speculative fiction world, from urban fantasy (Geekomancy), to fantasy superhero novel Shield and Crocus, and the SF series in novellas, Genrenauts. He is a co-host on podcasts The Skiffy & Fanty Show and Speculate.