Young Rissa by F.M. Busby
Young Rissa by F.M. Busby
URL: http://www.ereads.com/book.asp?bookid=883
Comments are closed.
Featured Book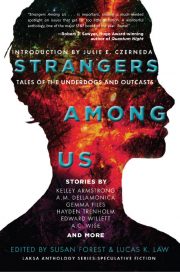 Explore the delicate balance between mental health and mental illness in 19 thought-provoking and moving stories by Kelley Armstrong, A.M. Dellamonica, Gemma Files, James Alan Gardner, Edward Willett, A.C. Wise and more. Intro by Julie E. Czerneda.
Featured Member
E.D. Walker
E.D. Walker is the author of The Beauty's Beast Series of fairy tale retellings that begins with Enchanting the King. She's a total geek, a movie buff, and a mediocre swing dancer. E.D. lives with her husband and two spoiled housecats in LA.