Young Rissa by F.M. Busby
Young Rissa by F.M. Busby
URL: http://www.ereads.com/book.asp?bookid=883
Comments are closed.
Featured Book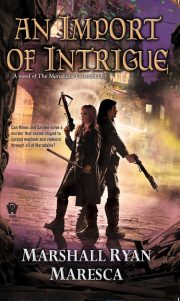 The Little East: a collision of foreign cultures and traditions, sequestered away in the city of Maradaine. When a foreign dignitary is murdered, the case falls upon the least popular inspectors in the Constabulary: Satrine Rainey and Minox Welling.
Featured Member
Karen Azinger
Karen L Azinger is the author of epic medieval fantasy, The Silk & Steel Saga. The first five books are published and getting great reviews, The Steel Queen, The Flame Priest, The Skeleton King, The Poison Priestess and The Knight Marshal.