Quick Updates for 2009-11-06
Comments are closed.
Featured Book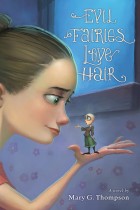 Grow 100 fairies, get your heart's desire. All you have to do is feed their ravenous appetite for hair. But don't let them near your own hair or break any of the other rules. There's a reason everyone calls them evil fairies …
Featured Member
Lou Antonelli
Lou Antonelli is a modern speculative fiction author with classic sensibilities, honed by a long career as a newspaperman. His short story "Great White Ship" was a 2013 finalist for the Sidewise Award. He's had 81 short stories published since 2003.