Quick Updates for 2009-11-06
Comments are closed.
Featured Book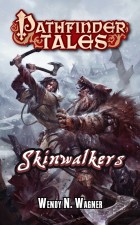 After a youth of piracy, Jendara wants nothing more to settle down and raise her son among the islands she calls home. But that peace is shattered as a clan of shapeshifting pillagers make their way through the islands.
Featured Member
Kay Kenyon
Kay Kenyon is the author of 11 sf/f novels including her fantasy, A Thousand Perfect Things, August 2013. Her work has been short-listed for the Philip K. Dick Award and John W. Campbell awards.