Quick Updates for 2009-11-06
Comments are closed.
Featured Book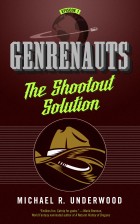 Episode 1 of Genrenauts, a series in novellas set in a multiverse where each other dimension is the home of a story genre (Western, SF, Romance, etc.). The Genrenauts travel between dimensions to find & fix broken stories to protect their home world.
Featured Member
Amanda C. Davis
Amanda C. Davis is a combustion engineer and short-fiction author who bakes excellent macarons and watches terrible slasher movies. She tweets enthusiastically as @davisac1.