Quick Updates for 2009-11-06
Comments are closed.
Featured Book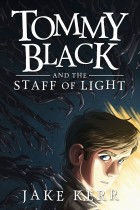 From Nebula & Sturgeon Award nominee Jake Kerr comes the Tommy Black trilogy, an action adventure series for readers of all ages.
Featured Member
Tracy S. Morris
When Tracy S. Morris was four years old, she wrote her first "novel" in crayon on the back of a newspaper and gave it to the postman along with an antique silver dollar so that someone could turn it into a novel. She is still waiting to hear back.
Recent Comments