Quick Updates for 2009-11-06
Comments are closed.
Featured Book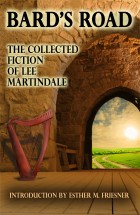 Twenty-nine short stories by Lee Martindale, including reprints from major anthologies and four never-before-published works. Introduction by Esther M. Friesner, cover art by Melanie Fletcher.
Featured Member
Michael J. Martinez
Michael J. Martinez is a veteran writer who decided, in an act of blinding hubris, to try his hand at science-fiction and historical fantasy…in the same book.