Quick Updates for 2009-11-06
Comments are closed.
Featured Book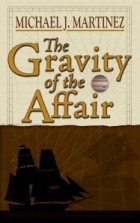 Set in the worlds of The Daedalus Incident, this novella follows the adventures of a young post-captain named Horatio Nelson as he sails the moons of Jupiter on behalf of England. But a chance encounter could derail his career before it truly begins.
Featured Member
Tracy S. Morris
When Tracy S. Morris was four years old, she wrote her first "novel" in crayon on the back of a newspaper and gave it to the postman along with an antique silver dollar so that someone could turn it into a novel. She is still waiting to hear back.