Quick Updates for 2009-11-06
Comments are closed.
Featured Book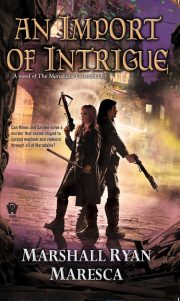 The Little East: a collision of foreign cultures and traditions, sequestered away in the city of Maradaine. When a foreign dignitary is murdered, the case falls upon the least popular inspectors in the Constabulary: Satrine Rainey and Minox Welling.
Featured Member
Edward M. Lerner
Edward M. Lerner worked in high tech for 30 years, supporting (among many) NASA, the DoD, and the FBI. When not prospecting beneath his sofa cushions for small change for his first spaceflight, he now writes SF, technothrillers, and popular science.