Quick Updates for 2009-11-06
Comments are closed.
Featured Book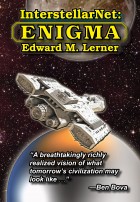 Humanity once feared that we might be alone in the universe. Now we know better. And we've learned there are worse things than being alone …
Featured Member
Laura Anne Gilman
Laura Anne Gilman is the Nebula-nominated author of the Vineart War trilogy, the "Cosa Nostradamus" urban fantasy series, and a few other works, including the occasional short story. Under the name L.A. Kornetsky, she also writes mysteries.