Quick Updates for 2009-11-10
Comments are closed.
Featured Book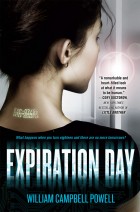 In 2049, nobody can have kids. Well, almost nobody. And nobody knows why. So I'm a real rarity. A real girl. Most kids are just robots. Good enough to fool the maternal instinct. Good enough to stop the riots. Good enough to play with. Sometimes.
Featured Member
Paul Levinson
Paul Levinson, PhD, wrote The Silk Code (winner of Locus Award for Best First 1st Novel of 1999), Borrowed Tides (2001), The Consciousness Plague (2002), The Pixel Eye (2003), The Plot To Save Socrates (2006), and Unburning Alexandria (2013)