Quick Updates for 2009-11-10
Comments are closed.
Featured Book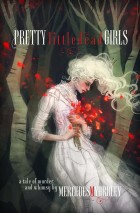 Bryony Adams is destined to be murdered, but fortunately Fate has terrible marksmanship. Mercedes M. Yardley's Pretty Little Dead Girls: A Novel of Murder and Whimsy is a dark, lovely fairy tale with lyrical language and a high body count.
Featured Member
Michael J. Martinez
Michael J. Martinez is a veteran writer who decided, in an act of blinding hubris, to try his hand at science-fiction and historical fantasy…in the same book.