Quick Updates for 2009-11-10
Comments are closed.
Featured Book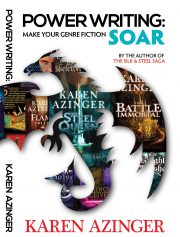 Learn how to write bold genre fiction that will enthrall your readers. Novice writers learn about 'tells' that warn agents of amateur writing. Veterans discover the flavors of world building and description from the eye of the beholder.
Featured Member
Amy J. Murphy
The shady underworld of the high school essay black market was indie author Amy J. Murphy's introduction to writing for profit. She went legit in 2015 with the launch of the Allies and Enemies series. It's reached the Top 50 in space opera on Amazon.