Quick Updates for 2009-11-10
Comments are closed.
Featured Book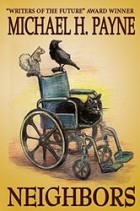 Gus Lancer's peculiar neurological condition has paralyzed him from the waist down and strangled his speech, but he's recently discovered that he can apparently communicate with animals.  This leads him into more adventures than he expects.
Featured Member
Teresa Frohock
Teresa Frohock is the author of the dark fantasy Miserere: An Autumn Tale and numerous short stories. Currently, she lives in North Carolina. She has long been accused of telling stories, which is a southern colloquialism for lying.