Quick Updates for 2009-11-10
Comments are closed.
Featured Book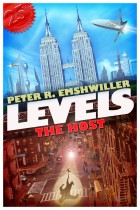 Originally published by Bantam Spectra as The Host, this is the 25th Anniversary edition of the cyperpunk classic, now available for Kindle!
Featured Member
Lee Gimenez
Lee Gimenez is the author of eight novels and over fifty short stories. Several of his books became bestsellers, including BLACKSNOW ZERO, and THE NANOTECH MURDERS. His latest thriller, THE WASHINGTON ULTIMATUM, was published in 2013.