Quick Updates for 2010-05-11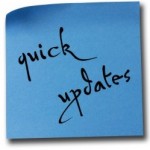 Member News
Welcome to SFWA's newest Associate member Hayley E. Lavik. Read her qualifying story at Flash Fiction Online.
Welcome to SFWA's newest Active member, Sherri Browning Erwin, author of Jane Slayre
A fun contest to win SFWA member Blake Charlton's SPELLWRIGHT, from the Functional Nerds.
SFWA has had 95 new members join since January. Who will be number 100 in 2010?
Industry News
Thanks to a generous grant, the NYC simulcast Nebula reception and dinner is now $25. There are only 44 seats remaining.