Quick Updates for 2010-10-17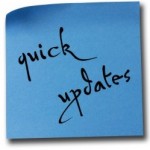 Member News
Welcome to SFWA's newest Active member M. J. Scott, author of SHADOW KIN (Roc, 2011).
Industry News
WOULD THAT IT WERE has been added retroactively to SFWA's qualifying short fiction market list.
Please attend the SFWA annual business meeting at World Fantasy. The meeting is on Saturday at 9am with free continental breakfast!