Quick Updates for 2011-04-22
@gailcarriger We're aware, yes. Thank you for pointing out that post though. #
Comments are closed.
Featured Book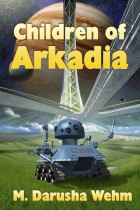 Arkadia, one of four space stations orbiting Jupiter, was to be a haven for all who fought the corrupt systems of Earth, where both humans and Artificial Intelligences could be happy and free. But which will prove more powerful: freedom or happiness?
Featured Member
Laura Anne Gilman
Laura Anne Gilman is the Nebula-nominated author of the Vineart War trilogy, the "Cosa Nostradamus" urban fantasy series, and a few other works, including the occasional short story. Under the name L.A. Kornetsky, she also writes mysteries.