Quick Updates for 2011-04-22
@gailcarriger We're aware, yes. Thank you for pointing out that post though. #
Comments are closed.
Featured Book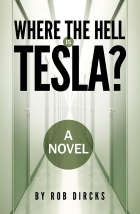 Sci-Fi odyssey. Comedy. Love Story. And of course… Nikola Tesla. "★★★★★ Perhaps the Funniest and Best Audiobook on Audible!" Join Chip and Pete as they stumble into Tesla's interdimensional portal. Can these idiots save the multiverse?
Featured Member
William Alexander
William Alexander wrote Goblin Secrets (National Book Award winner), Ghoulish Song (Mythopoeic Award finalist), Ambassador (International Latino Book Award finalist and Eleanor Cameron Award winner), and, most recently, Nomad (sequel to Ambassador).