Featured Book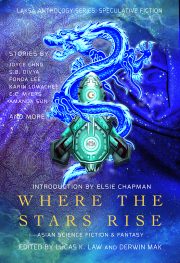 Take a journey through Asia and beyond to explore about identities, belonging, and choices.
". . . this collection is essential for anyone interested in the diverse and engaging possibilities of fantasy and science fiction." — Booklist
Featured Member
Kelly A. Harmon
Kelly A. Harmon used to write truthful, honest stories about authors and thespians, senators and statesmen, movie stars and murderers. Now she writes lies, which is infinitely more satisfying, but lacks the convenience of doorstep delivery.