Quick Updates for 2011-07-06
Comments are closed.
Featured Book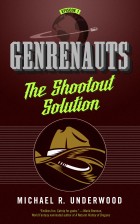 Episode 1 of Genrenauts, a series in novellas set in a multiverse where each other dimension is the home of a story genre (Western, SF, Romance, etc.). The Genrenauts travel between dimensions to find & fix broken stories to protect their home world.
Featured Member
Charles E. Gannon
Chuck Gannon's novels include National&Wall Street Journal Bestsellers, with shorter works appearing in magazines/anthologies. A Distinguished Prof. of English and 3-time Fulbrighter, his "Rumors of War and Infernal Machines" won the ALA Choice Award