Quick Updates for 2011-07-06
Comments are closed.
Featured Book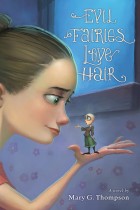 Grow 100 fairies, get your heart's desire. All you have to do is feed their ravenous appetite for hair. But don't let them near your own hair or break any of the other rules. There's a reason everyone calls them evil fairies …
Featured Member
Wesley Chu
Wesley Chu was shortlisted for the John W. Campbell Best New Writer Award. His debut, The Lives of Tao, earned him an ALA Alex Award & a Science Fiction Goodreads Choice Award. Chu's next series with be released with Tor Books in 2015.