Quick Updates for 2011-07-06
Comments are closed.
Featured Book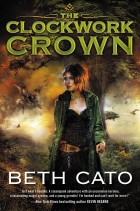 On the run from assassins and kidnappers, Octavia Leander struggles to understand the changing nature of her healing magic and becomes more embroiled in the royal tragedy that has devastated her country for decades.
Featured Member
Adam Christopher
Adam Christopher is the Sir Julius Vogel Award-winning author of Empire State (SciFiNow magazine Book of the Year 2012 and a Financial Times Book of the Year 2012), Seven Wonders, The Age Atomic, Hang Wire, and The Burning Dark.