Quick Updates for 2011-07-06
Comments are closed.
Featured Book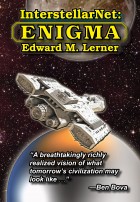 Humanity once feared that we might be alone in the universe. Now we know better. And we've learned there are worse things than being alone …
Featured Member
M. Darusha Wehm
M. Darusha Wehm is from Canada, but currently lives on her sailboat in Wellington, New Zealand after spending the past several years living and sailing around the Pacific. She's the author of five science fiction novels.