Quick Updates for 2011-07-06
Comments are closed.
Featured Book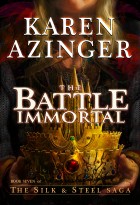 The Battle Immortal is a time when long-foretold prophecies live and die, when magic runs wild, and legends clash with nightmares. This fast-paced epic fantasy is the 7th and final book to The Silk & Steel Saga.
Featured Member
Barbara A. Barnett
Barbara A. Barnett is a writer, musician, librarian, Odyssey Writing Workshop alum, coffee addict, wine lover, bad movie mocker, and all-around geek with over 40 short stories published.
Recent Comments