Quick Updates for 2011-07-06
Comments are closed.
Featured Book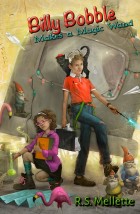 Billy, a 12-year-old quantum physics prodigy, and his friend Suzy make a real magic wand… now if they can figure out how to use it.
Featured Member
R.S. Mellette
Author of Billy Bobble Makes A Magic Wand and numerous short stories, R.S. Mellette also wrote "The Xena Scrolls" for Universal's web site for Xena: Warrior Princess. An episode of the same name became the 1st web-to-TV intellectual property.