Title of Work: A Princess of Passyunk
Author of Work: Maya Kaathryn Bohnhoff
URL: http://www.bookviewcafe.com
Comments are closed.
Featured Book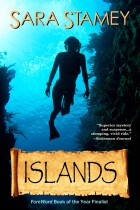 "Welcome to Paradise," archeologist Susan Dunne hears on arrival at the Caribbean island to research petroglyphs and investigate her brother's drowning. She follows dangerous clues in her psychic visions, leading to a violent cult and sunken treasure
Featured Member
Adam Christopher
Adam Christopher is the Sir Julius Vogel Award-winning author of Empire State (SciFiNow magazine Book of the Year 2012 and a Financial Times Book of the Year 2012), Seven Wonders, The Age Atomic, Hang Wire, and The Burning Dark.