Roger MacBride Allen
URL: http://www.sff.net/people/Roger.Allen/bookpage/utopia.htm
Comments are closed.
Featured Book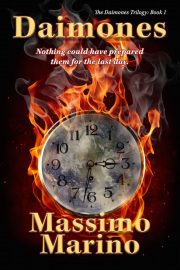 Murder, genocide, the Apocalypse.
Explore the future of humanity in Massimo Marino's sci-fi debut, Daimones, an apocalyptic tale that feels like it could happen tomorrow. You may never sleep through a windstorm again.
Featured Member
Mark Niemann-Ross
Mark Niemann-Ross is a Portland-based writer of hard science-fiction and has appeared in Stupefying Stories and Analog; his upcoming novel is a murder mystery solved by a refrigerator.