Roger MacBride Allen
URL: http://www.sff.net/people/Roger.Allen/bookpage/utopia.htm
Comments are closed.
Featured Book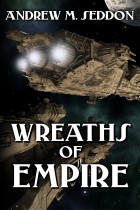 The ultimate weapon.
The peace of the galaxy.
One woman.
Naval Intelligence Commander Jade Lafrey uncovers a conspiracy that could devastate either human worlds or their alien enemies'.
Featured Member
Mindy McGinnis
Mindy McGinnis is an assistant YA librarian who lives in Ohio. She graduated from Otterbein University magna cum laude with a BA in English Literature and Religion. Her debut Cli-Fi novel, NOT A DROP TO DRINK was published in 2013 by Harper Collins.