Quick Updates for 2011-10-27
Comments are closed.
Featured Book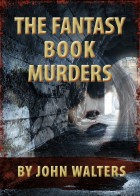 After a famous fantasy writer is murdered in his castle-like mansion, two unlikely investigators discover evidence of a serial killer. As they uncover the backgrounds of the victims, the truth resembles the writer's most bizarre and horrific fiction.
Featured Member
Anna Kashina
Anna Kashina is a Russian-born fantasy author of the Arabian-style "Spirits of the Ancient Sands" series (silver medalist in the ForeWord Magazine Book of the Year contest, and "The Majat Code" series upcoming from Angry Robot in 2014.