Quick Updates for 2011-10-27
Comments are closed.
Featured Book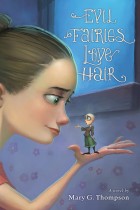 Grow 100 fairies, get your heart's desire. All you have to do is feed their ravenous appetite for hair. But don't let them near your own hair or break any of the other rules. There's a reason everyone calls them evil fairies …
Featured Member
Karen Azinger
Karen L Azinger is the author of epic medieval fantasy, The Silk & Steel Saga. The first five books are published and getting great reviews, The Steel Queen, The Flame Priest, The Skeleton King, The Poison Priestess and The Knight Marshal.