Quick Updates for 2011-10-27
Comments are closed.
Featured Book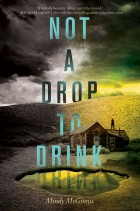 NOT A DROP TO DRINK is a post-apocalyptic survival tale set in a world where freshwater is almost nonexistent.
Featured Member
Jim C. Hines
Jim Hines writes books about magic librarians, action-hero princesses, nearsighted goblins, flaming spiders, and more. (Generally not all in the same book.) He's also sold close to 50 short stories.