Quick Updates for 2011-10-27
Comments are closed.
Featured Book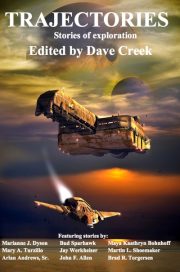 Original stories of space exploration and adventure from Bud Sparhawk, Marianne J. Dyson, Maya Kaathryn Bohnhoff, Mary A. Turzillo, Jay Werkheiser, Arlan Andrews, Martin L. Shoemaker, John F. Allen, and Brad R. Torgersen.
Featured Member
Jeffe Kennedy
Jeffe Kennedy is an award-winning author and scientist. Her works include non-fiction, poetry, short fiction, and novels. She lives in Santa Fe, NM, with two Maine coon cats, plentiful free-range lizards and a handsome Doctor of Oriental Medicine.