Quick Updates for 2011-10-27
Comments are closed.
Featured Book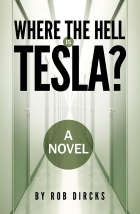 Sci-Fi odyssey. Comedy. Love Story. And of course… Nikola Tesla. "★★★★★ Perhaps the Funniest and Best Audiobook on Audible!" Join Chip and Pete as they stumble into Tesla's interdimensional portal. Can these idiots save the multiverse?
Featured Member
Ken Altabef
Ken Altabef is an author whose writing spans a wide range of the imaginative from science fiction to fantasy to horror. ALAANA'S WAY is his epic fantasy series set in the arctic wastes, and features Inuit mythology.
Recent Comments