Quick Updates for 2011-10-27
Comments are closed.
Featured Book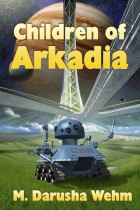 Arkadia, one of four space stations orbiting Jupiter, was to be a haven for all who fought the corrupt systems of Earth, where both humans and Artificial Intelligences could be happy and free. But which will prove more powerful: freedom or happiness?
Featured Member
Anna Kashina
Anna Kashina is a Russian-born fantasy author of the Arabian-style "Spirits of the Ancient Sands" series (silver medalist in the ForeWord Magazine Book of the Year contest, and "The Majat Code" series upcoming from Angry Robot in 2014.