Quick Updates for 2011-10-28
Comments are closed.
Featured Book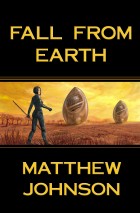 Shi Jin is a rebel, the latest in a long line of those who have challenged the Borderless Empire – and failed. Dropped with a crew of convicts on an uninhabited planet, Shi Jin – and humanity – encounter alien life forms for the first time.
Featured Member
Karen L Azinger is the author of epic medieval fantasy, The Silk & Steel Saga. The first five books are published and getting great reviews, The Steel Queen, The Flame Priest, The Skeleton King, The Poison Priestess and The Knight Marshal.