Quick Updates for 2011-10-28
Comments are closed.
Featured Book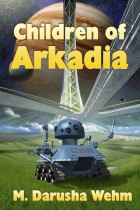 Arkadia, one of four space stations orbiting Jupiter, was to be a haven for all who fought the corrupt systems of Earth, where both humans and Artificial Intelligences could be happy and free. But which will prove more powerful: freedom or happiness?
Featured Member
Guy Stewart
Guy i a husband (supporting his wife who is a breast cancer survivor), a father, father-in-law, grandfather, foster father, writer, counselor and teacher who maintains a SF/YA/Childrens writing blog by the name of POSSIBLY IRRITATING ESSAYS…