Quick Updates for 2011-10-28
Comments are closed.
Featured Book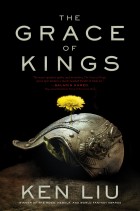 A silkpunk epic fantasy featuring a nobleman and a bandit who rebel together against tyranny only to find themselves on opposite sides of an ideological divide about the meaning of justice and honor.
Featured Member
Tracy S. Morris
When Tracy S. Morris was four years old, she wrote her first "novel" in crayon on the back of a newspaper and gave it to the postman along with an antique silver dollar so that someone could turn it into a novel. She is still waiting to hear back.