Quick Updates for 2011-10-28
Comments are closed.
Featured Book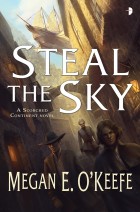 "Blend two lovable rogues, a magical doppelganger, and a nasty empire, and you have O'Keefe's Steal the Sky. It's like an epic steampunk Firefly." – Beth Cato, author of The Clockwork Dagger
Featured Member
Vera Nazarian
Vera Nazarian is a two-time Nebula Award Nominee, award-winning artist, and the author of the Cobweb Bride Trilogy and the Supernatural Jane Austen Series, in addition to numerous other novel-length and short works of fiction and fancy.