Quick Updates for 2011-10-28
Comments are closed.
Featured Book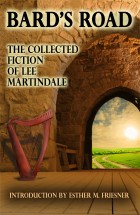 Twenty-nine short stories by Lee Martindale, including reprints from major anthologies and four never-before-published works. Introduction by Esther M. Friesner, cover art by Melanie Fletcher.
Featured Member
Larry Hodges
Larry Hodges is an active member of SFWA with 60+ story sales. His first novel "Sorcerers in Space" came out in 2013 from Class Act Books. He's an Odyssey Writers Workshop graduate and full-time writer with seven books and 1400+ published articles.