Quick Updates for 2011-10-28
Comments are closed.
Featured Book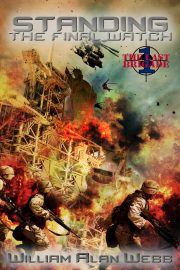 When Lt. Gen. Nick Angriff's family is killed in a terrorist attack, his grief and strong political beliefs leave him vulnerable to manipulation by those who need him to lead a secret program to revive America in case of collapse.
Featured Member
Kelly A. Harmon
Kelly A. Harmon used to write truthful, honest stories about authors and thespians, senators and statesmen, movie stars and murderers. Now she writes lies, which is infinitely more satisfying, but lacks the convenience of doorstep delivery.
Recent Comments