Quick Updates for 2011-10-28
Comments are closed.
Featured Book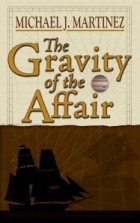 Set in the worlds of The Daedalus Incident, this novella follows the adventures of a young post-captain named Horatio Nelson as he sails the moons of Jupiter on behalf of England. But a chance encounter could derail his career before it truly begins.
Featured Member
Laura Anne Gilman
Laura Anne Gilman is the Nebula-nominated author of the Vineart War trilogy, the "Cosa Nostradamus" urban fantasy series, and a few other works, including the occasional short story. Under the name L.A. Kornetsky, she also writes mysteries.