Quick Updates for 2011-10-28
Comments are closed.
Featured Book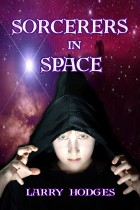 "Sorcerers in Space" is a humorous fantasy retelling of the U.S.-Soviet race to the moon in the '60s, but with sorcerers instead of astronauts. It's Hitchhiker's Guide meets the Space Race.
Featured Member
Two-time Prix Aurora Award finalist and winner of The Galaxy Project, Forest's stories appear in Analog, Asimov's, OnSpec, Beneath Ceaseless Skies, AE SF Review, and her collection, Immunity to Strange Tales. She edits for Edge Press.