Quick Updates for 2011-10-28
Comments are closed.
Featured Book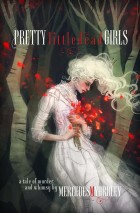 Bryony Adams is destined to be murdered, but fortunately Fate has terrible marksmanship. Mercedes M. Yardley's Pretty Little Dead Girls: A Novel of Murder and Whimsy is a dark, lovely fairy tale with lyrical language and a high body count.
Featured Member
Sara Stamey
Sara Stamey's SF novels with Berkley/Ace made the Locus Best New Novels list. Her journeys include treasure hunting and teaching scuba in the Caribbean; backpacking Greece and New Zealand; operating a nuclear reactor; owning a farm in Southern Chile.
Recent Comments