Quick Updates for 2011-11-01
Comments are closed.
Featured Book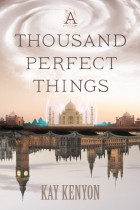 Tori, a young Victorian woman in a re-imagined India, takes on the scientific establishment, palace intrigues, ghosts and a great mutiny — by marshaling the powers of magic.
Featured Member
Karen L Azinger is the author of epic medieval fantasy, The Silk & Steel Saga. The first five books are published and getting great reviews, The Steel Queen, The Flame Priest, The Skeleton King, The Poison Priestess and The Knight Marshal.