Quick Updates for 2011-11-01
Comments are closed.
Featured Book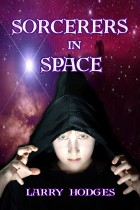 "Sorcerers in Space" is a humorous fantasy retelling of the U.S.-Soviet race to the moon in the '60s, but with sorcerers instead of astronauts. It's Hitchhiker's Guide meets the Space Race.
Featured Member
John Dixon
John Dixon is the author of PHOENIX ISLAND, the inspiration for the new CBS TV series, INTELLIGENCE.