Quick Updates for 2011-11-01
Comments are closed.
Featured Book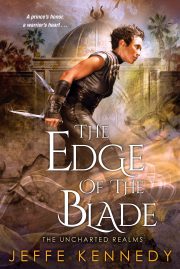 Jepp has been the heart of the queen's elite guard, but the ease and grace that come to her in fighting leathers vanishes when battles turn to politics-and she becomes the only envoy to a strange realm with nothing to rely on but her wits and knives.
Featured Member
Kelly A. Harmon
Kelly A. Harmon used to write truthful, honest stories about authors and thespians, senators and statesmen, movie stars and murderers. Now she writes lies, which is infinitely more satisfying, but lacks the convenience of doorstep delivery.