Quick Updates for 2011-11-01
Comments are closed.
Featured Book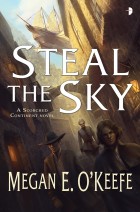 "Blend two lovable rogues, a magical doppelganger, and a nasty empire, and you have O'Keefe's Steal the Sky. It's like an epic steampunk Firefly." – Beth Cato, author of The Clockwork Dagger
Featured Member
Anna Kashina
Anna Kashina is a Russian-born fantasy author of the Arabian-style "Spirits of the Ancient Sands" series (silver medalist in the ForeWord Magazine Book of the Year contest, and "The Majat Code" series upcoming from Angry Robot in 2014.