Quick Updates for 2011-11-01
Comments are closed.
Featured Book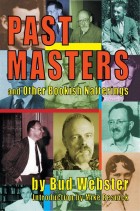 Past Masters and Other Bookish Natterings collects some of the very best of Bud Webster's columns and author profiles drawn from a broad knowledge of the field of literary science fiction and fantasy.
Featured Member
Adam Christopher
Adam Christopher is the Sir Julius Vogel Award-winning author of Empire State (SciFiNow magazine Book of the Year 2012 and a Financial Times Book of the Year 2012), Seven Wonders, The Age Atomic, Hang Wire, and The Burning Dark.