Quick Updates for 2011-11-30
Comments are closed.
Featured Book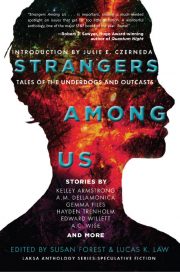 Explore the delicate balance between mental health and mental illness in 19 thought-provoking and moving stories by Kelley Armstrong, A.M. Dellamonica, Gemma Files, James Alan Gardner, Edward Willett, A.C. Wise and more. Intro by Julie E. Czerneda.
Featured Member
James Patrick Kelly
Jim has won the Hugo, Nebula and Locus awards and his work has been translated into eighteen languages. He writes a column for Asimov's and is on the faculty of the Stonecoast Creative Writing MFA Program at the University of Southern Maine.