Quick Updates for 2011-11-30
Comments are closed.
Featured Book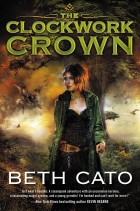 On the run from assassins and kidnappers, Octavia Leander struggles to understand the changing nature of her healing magic and becomes more embroiled in the royal tragedy that has devastated her country for decades.
Featured Member
Wesley Chu
Wesley Chu was shortlisted for the John W. Campbell Best New Writer Award. His debut, The Lives of Tao, earned him an ALA Alex Award & a Science Fiction Goodreads Choice Award. Chu's next series with be released with Tor Books in 2015.