Nebula Awards Weekend: How to Write About Infectious Diseases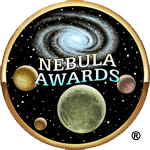 At the 2012 Nebula Awards Weekend, learn how to write about "Infectious Diseases" more realistically. A panel will feature: Anatoly Belilovsky, a New York science fiction writer and pediatrician who had to deal with the H1N1 virus in real time; Sam Scheiner, the program director in NSF's division of environmental biology; David W. Goldman, a nominee in the Short Story category, who used to be a family doctor and a software engineer; and Marianne Porter, who was the Director of the Division of Laboratory Improvement for the Pennsylvania Department of Health.
More information is available at the Nebula Award Weekend page. We have a brief extension of the Hotel Reservation Cut-Off date: book your hotel room by this Thursday, April 26th, to get the $109.00 (plus tax) rate! The rate for the Nebula Awards also increases on May 1st, so register now! You don't have to be a nominee, a member of SFWA, or even a writer to participate in the weekend. Join us!
Please contact nebulaweekend@sfwa.org with any questions.