Featured Book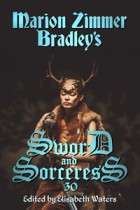 This volume of the anthology series, edited by Elisabeth Waters and now in its third decade of publication, includes stories by Robin Wayne Bailey, Deborah J. Ross, Michael H. Payne, Catherine Soto, and many others.
Featured Member
Marshall Ryan Maresca
Marshall Ryan Maresca is a fantasy and science-fiction writer, as well as a playwright, living in South Austin with his wife and son. He is the author of The Thorn of Dentonhill and A Murder of Mages.