Featured Book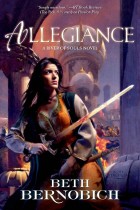 King Leos of Károví is finally dead. Ilse is now free to make the long journey back to where her story began, to complete the journey she attempted lives and centuries before and bring peace between the kingdoms.
Featured Member
Alma Alexander is a novelist, anthologist and short story writer who currently shares her life between the Pacific
Northwest of the USA (where she lives with her husband and a cat) and the wonderful fantasy worlds of her own imagination.