Featured Book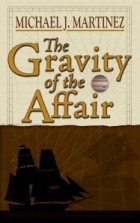 Set in the worlds of The Daedalus Incident, this novella follows the adventures of a young post-captain named Horatio Nelson as he sails the moons of Jupiter on behalf of England. But a chance encounter could derail his career before it truly begins.
Featured Member
Alma Alexander
Alma Alexander is a novelist, anthologist and short story writer who currently shares her life between the Pacific
Northwest of the USA (where she lives with her husband and a cat) and the wonderful fantasy worlds of her own imagination.