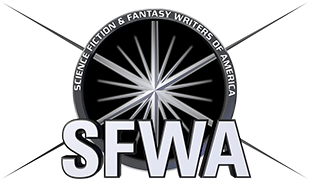 SFWA will once again be present at BookExpo America, May 29-June 1. While we won't be participating in panels, we will have a table and will host signings.
For those not able to attend, please contact Jaym Gates (about supplying materials for give-away or promotion at the SFWA table) at communications@sfwa.org. We do accept things like postcards, bookmarks, promotional copies of books to be given away, lesson plans for teachers, and other fun promotional items to be given to those who stop by the table.
Signings will be 30 minutes long, on Thursday and Friday. To participate, please reply to this email with your preferred times, a description of your book, a cover image, a short bio, and a headshot, no later than May 19.
If you would like to volunteer to be at the SFWA table, but not do a signing, please reply with your preferred time slots and amount of available time. We will also be able to cross-promote with publishers and other signings.
A BEA badge regularly costs over $300. Through SFWA, we can obtain badges for $80 for members. Please let us know by May 19 if you will require a badge, and your Paypal address/method of payment, and preferred name.
If you are interested in signing, helping out at the SFWA table, sending materials to be handed out, or attending as a member of SFWA, please email Jaym Gates at communications@sfwa.org by May 19.