Comments are closed.
Featured Book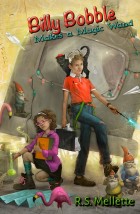 Billy, a 12-year-old quantum physics prodigy, and his friend Suzy make a real magic wand… now if they can figure out how to use it.
Featured Member
Daniel Marcus
Daniel Marcus has published stories in many genre venues. He is the author of the collection, Binding Energy, and the novels Burn Rate and A Crack in Everything. Daniel was a Campbell finalist and is on the SFF faculty at Gotham Writers' Workshop.