Comments are closed.
Featured Book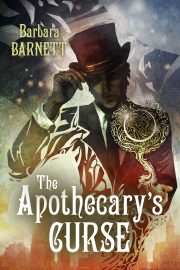 Between magic and science, mythology and medicine, history and fantasy lies The Apothecary's Curse, as a gentleman physician and an enigmatic apothecary try to prevent a genetics company from exploiting the book that made them immortal centuries ago.
Featured Member
Sarina Dorie
Sarina Dorie has sold over eighty-five short stories to markets like Daily Science Fiction, Magazine of Fantasy and Science Fiction, Orson Scott Card's IGMS, and Cosmos. Her novels include: SILENT MOON, DAWN OF THE MORNING STAR, and URBAN CHANGELING.