Comments are closed.
Featured Book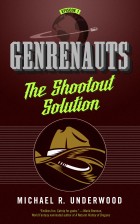 Episode 1 of Genrenauts, a series in novellas set in a multiverse where each other dimension is the home of a story genre (Western, SF, Romance, etc.). The Genrenauts travel between dimensions to find & fix broken stories to protect their home world.
Featured Member
Jim C. Hines
Jim Hines writes books about magic librarians, action-hero princesses, nearsighted goblins, flaming spiders, and more. (Generally not all in the same book.) He's also sold close to 50 short stories.
Recent Comments