Don DeBrandt's CYBERJUNK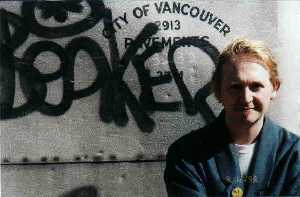 Photo by Andrea Zimmer
Don DeBrandt writes science fiction, fantasy, horror, superheroes, cyberpunk, cyberfolk, and cyberanything else. Spider Robinson has compared DeBrandt's fiction to that of Larry Niven and John Varley; his first novel, The Quicksilver Screen, made Locus magazine's recommended reading list for 1992. He's also published horror fiction in Pulphouse, a novella in the SF magazine Horizons, three short stories in the Weird West gaming anthology Deadlands, and written a bi-monthly column on the future of e-business for the magazine Backbone. His fiction has earned him Honorable Mentions in both the Year's Best SF and the Year's Best Fantasy and Horror.
He has written three stage plays for high schools: Heart of Glass; Happy Hour at the Secret Hideout; and Stagecraft. DeBrandt has also worked as a freelancer for Marvel Comics on such titles as Spiderman 2099 and 2099 Unlimited. His other comics work include several stories for the anthology comic Freeflight.
DeBrandt lives in Vancouver, BC, and is notorious in certain circles of Northwest Fandom (but not for his writing). His hobbies include leather-tasting, naked laughing gas hot tubbing, and being thrown off roofs by irate hotel security. He does not plan to run for office, ever. There are too many pictures.
Foreign Editions
Italian
L'Uomo Dei Mondi Di Polvere (Steeldriver); Urania
L'Uomo Del Mondo Selvaggio (Timberjak); Urania
French
Interet commun (Shakedown); Fleuve Noir
Plongee Mortelle (Riptide); Fleuve Noir
Russian
The Closer; Redfish
Schedule
Don will be appearing at the New York Comicon at the Javits Center in New York City, From April 17-21, 2008.
Forthcoming Projects:
Don is currently working on the novel Lucidity, for release by Fivestar Press in 2009. The novel is the first in a proposed trilogy, a science-fiction mystery that takes a hard science approach to New Age concepts like lucid dreaming, auras, channeling and astral projection.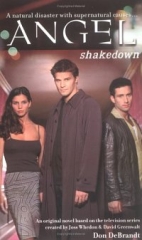 Shakedown
Pocket Pulse, November, 2000
Angel—private detective, Slayer ex, vampire with a soul—gets involved with some very well-off demons called the Serpentene. They're not really evil, they're just yuppies... but when their exclusive underground co-op finds itself under attack by earthquake demons called Tremblors, it'll take more than a Platinum Mastercard to save them.
Cordelia and Doyle aren't sure the Serpentene can be trusted, but Angel discovers he has a lot in common with his clients. Has he finally found a place he belongs... or are the Serpentene even more dangerous than the Tremblors who want them dead?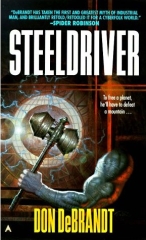 Steeldriver
Excerpt from Steeldriver



Starring -- A Novel
Every culture has its own mythology. In the twentieth century, popular culture has the mythology of the celebrity--names like Aphrodite, Ares and Gaea have been replaced in the modern pantheon by Madonna, Scwarzenegger and Roseanne. We treat them like they're more than human.
What if they were?... (continued)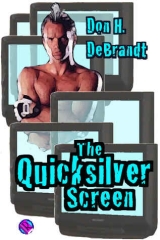 The Quicksilver Screen
Infinite Range Television -- IRTV -- allowed researchers of the 21st century to pick up transmissions from alternate realities. Some used it to search for other worlds' solutions to this world's problems: new medical techniques, new technology... but most saw IRTV as nothing but the biggest advance in televised entertainment since the advent of cable. And -- despite the copycat revolutions and strange fads picked up from other worlds -- these latter were mostly right. IRTV allowed only broadcasting, not world-to-world communication, and without direct contact no world had real power over another.
Until corporate screener Virgil Jakobi, able to scan and process thousands of IRTV channels at a time, stumbles across a secret message... one that drives him back to the streets he came from and the gang that raised him. Now there's a price on his head, and Virge doesn't know who will collect -- the multinational corporations that want what he knows, or his oldest and deadliest friend...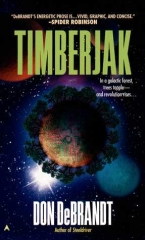 Timberjak
Ace Books, May 1999
ISBN: 0441006264
Ace Books, March, 1999
Set in the same universe as Steeldriver, and featuring some of the same characters.
The planet Shinnkaria is the galaxy's only source of korala wood trees, vital to interstellar flight technology. The head of the logging union, Paul Banyon, calls the shots on Shinnkaria -- except in the Indigo Wild, the lethal blue jungle where man and machines go crazy.
Now the jungle's mysterious protector, Johnny Rainforest, has decided that logging on Shinnkaria must stop. With his control over the bizarre and deadly creatures of the Indigo Wild, he wages a campaign of ecoterrorism against Paul -- but Banyon has a secret agenda of his own, one that will decide the fate of the most important planet in settled space.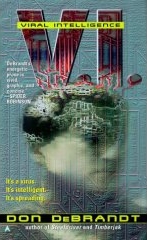 V.I.
Ace Books, 2000
Mike Blink, the galaxy's best known pilot, is the only witness to an otherdimensional explosion that cripples him and may lead to the destruction of hyperspace itself. He enlists two interstellar rogues, Skinshifter and Storysmith, to investigate the source of the explosion on the Toolies' home world of Kinslick; there, in the continent-spanning city of Myriad, they must uncover the stories of seven unique individuals, ranging from an 800 pound cabbie to a time-traveller and a pyromaniac, and enlist their aid.
Opposing them is a new life form with near omnipotent powers; at stake, not just the existence of hyperspace, but the survival of sentient life itself...
Look for Don H. DeBrandt's books online or at your local bookstore.
Don also writes suspense fiction under the name Donn Cortez.
Site space provided by