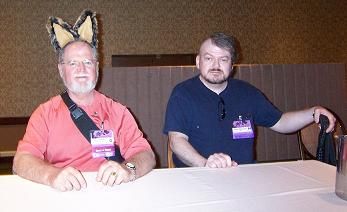 Matthew Joseph Harrington
Born February 8, 1960, in the US Naval Hospital at Yokosuka, Japan. Enrolled in public schools in Bowie, Maryland, and received an education by skipping class to hang out in the public library. Joined the Navy after the hostages were taken in Iran and discharged within the year for drinking too much to be a sailor. Moved to California and quit drinking. Spent 20 years deteriorating until fibromyalgia began being treated in 2000. Currently living with fantasy artist Valerie Anne Shoemaker and 5 cats. Gradually regaining human traits.
First story ever sold was to Larry Niven for Man-Kzin Wars series — which, given that the authors up to then were such lights as Poul Anderson, Dr. Jerry Pournelle, Hal Colebatch, Dean Ing, and Donald Kingsbury, was a sensation not unlike showing up for a draft physical and being inducted into the Justice League.
This picture was taken at BayCon 2006. Harrington is the one with the Wunderlander asymmetrical beard. The guy with the ears is a great and funny fellow Harrington met at the Con, whose Siamese twin took the picture.
Harrington lives in San Jose, and sometimes sits on Con panels in the South Bay area. He will be attending SiliCon, the first Con ever to invite him for free.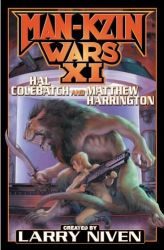 Cover painting by Stephen Hickman.
Teacher's Pet
War and Peace
Stories due in Man-Kzin Wars XII include:
Echoes of Distant Guns
Foreign Legion (with Hal Colebatch)
Peace and Freedom
---

Site space provided by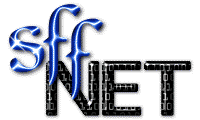 Updated
#