JAMES HETLEY
| | |
| --- | --- |
| | James A. Hetley is an architect and retired Kempo karate instructor who lives in Maine. He also served three years in the U. S. Army during the Vietnam war, and has worked such diverse jobs as electronics instructor, trash collector, and operating engineer in a refrigeration plant. The Summer Country is his first novel. |
---
Dragon's Bones
published by SRM Publisher, LTD


Few things in Stonefort are exactly what they seem.
Stonefort, small fishing village and harbor and township and island, sits off the Maine coast, about as far Down East as you can get without passing through Canadian Customs. Only the Salt Hay Bridge connects it to the mainland and the rest of the Boston States. If you held a vote, probably more than half the residents would choose to blow up that bridge and all it implies.
In this latest installment in the Stonefort saga, Maine author James A. Hetley revisits the tough land when a logging camp becomes the center of illegal activity in this world and perhaps in another as well. Nurse and cop, both must face a special duty in the face of Dragon's Bones.
Dragon's Teeth

Cover Art by Don Seegmiller; Cover Design by Annette Fiore
Published by ACE Books
ISBN: 0-441-01431-3

An ancient evil is coming...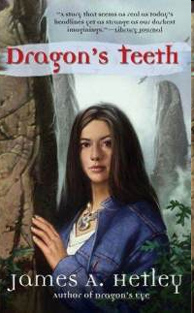 Two unusual families have lived in the backwater town of Stonefort, Maine, for generations -- the shapeshifting Morgans and the Haskell witches. They get along (usually) and work together (when necessary), but their alliance has been uneasy, to say the least. Now the vengeful spirit of a dark sorcerer, hungry to live again, will force them to unite once more.
In the arid Southwest, Caroline Haskell isn't sure she's ready to give up grad school -- and freedom -- for family responsibilities. But a mysterious artifact she's learned about through her studies could be the key to thwarting the undead sorcerer...
Meanwhile, a shady young woman slinks into Gary Morgan's life. She's absorbing his attentions -- and family secrets. And she may have a connection to the plastic-wrapped corpses sprouting up on Morgan and Haskell land.
Now the Haskells and the Morgans must distinguish friends from foes -- and real family from the kin that kills.


Due for release November, 2006.

Pre-order from Amazon.com
---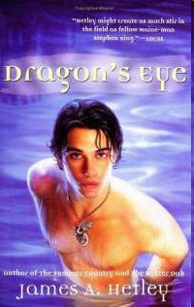 Dragon's Eye

Cover Art by Lori Earley; Cover Design by Rita Frangie
Published by ACE Books
ISBN: 0-441-01328-7
Few things in the town of Stonefort are exactly what they seem... Take the Morgans.
They've lived in this hardscrabble Maine town since time immemorial -- and this family of smugglers and thieves has been hiding its magical heritage for just as long.
And then there are the Haskells. People don't talk about it to outsiders, but there has always been a Haskell witch, caretaker of the Haskell House -- a place of refuge where no woman has ever been harmed.
But evil is coming to Stonefort. Don Antonio, a drug lord and frighteningly powerful sorcerer, covets the Morgan family's most closely guarded secret: its alliance with the magical being known as the Dragon. Now, seventeen-year-old Gary Morgan must claim his heritage and save his family.
But first he will have to master the power of the Dragon -- a task that may prove impossible without the help of the current Haskell witch. The Haskells and the Morgans must overcome their differences before a sorcerer wielding the power of the Dragon destroys them all....
Order from Amazon.com or Barnes & Noble.com
Booklist (starred review)

: "All of Hetley's characters are truly memorable,
and he does a seamless job of blending several magical traditions.
This one hooks you from page 1. Well done!"
Publishers Weekly
: "Solid writing, an evocative sense of place and delightful characters
will leave readers breathlessly anticipating the promised sequel."
The Best Reviews
: "This urban fantasy is as good as it gets."
Greenman Review
: "This may very well be Hetley's best book to date, just in terms of
complexity, originality, and fast-paced excitement."
Locus:

"When Daniel Morgan paddles his kayak into a smugglers' cave and falls
into the clutches of a gang led by a "Columbian drug lord,"
this opening scene works like the start of a TV thriller --
an attention-grabber. From then on, the pace rarely slows."
---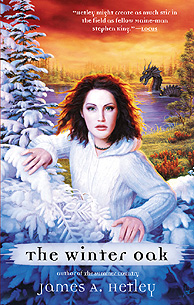 The Winter Oak
Cover Art by Lori Earley; Cover Design by Rita Frangie
Published by ACE Books
ISBN: 0-441-01201-9
The battle between worlds, between dream and reality, between the Old Ones and mankind, has begun.
In the realm known as the Summer Country -- the violent land of blood and magic where myth and legend are all too real -- Maureen Pierce has claimed her place among the powerful. But her many scars have yet to heal. She struggles to come to terms with her tragic life, while trying to find some way to allow the warrior Brian Albion into her heart. Her sister, Jo, still lives in the world of men -- fighting the demons that have haunted her own nightmares.
But the sisters' unresolved fear and anger are about to be turned against them -- as Fiona, the dark witch whom they vanquished together, seeks revenge. And she has allied herself with the dread dragon Khe'sha. Now, the only chance they have is to overcome the pain that has cursed them their entire lives, and face sinister forces bent on their destruction...
Order from Amazon.com or Barnes & Noble.com
Booklist: "Hetley's seamless blending of 'real' and mythical realities is pure magic,
every bit as enchanting here as in The Summer Country."
Library Journal: "Fans of urban fantasy in the style of Charles de Lint and Tanya Huff
should enjoy this well-written sequel to The Summer Country."
Publishers Weekly: "...this sequel to the critically acclaimed The Summer Country (2002)
confirms that Hetley has created that rarest of gems, a Celtic fantasy worth reading."
Charles De Lint (Fantasy & Science Fiction, April 2005): "...a rich and rewarding experience...
the promise Hetley showed in the first book blossoms fully in this sequel."

---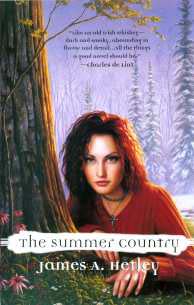 The Summer Country
Cover Art by Lori Earley; Cover Design by Rita Frangie
Published by ACE Books
ISBN: 0-441-00972-7
Mass -market paperback ISBN: 0-441-01220-5
Le royaume de l'été (French language edition)
ISBN: 2-915-15932-7

For twenty-eight years, Maureen Pierce led a fairly ordinary life, maybe a slightly tough one for a woman of her age, growing up on the wrong side of the poverty line in Naskeag Falls, Maine. But she did all right.
Then she met Brian Albion, and everything changed. If she can believe him - and Maureen has had some hard lessons in why you don't believe men - she carries a blood legacy that goes back to the old country. Only this is the really old country, the land of Mordred and Merlin, where deadly battles are still fought with magic, and a woman who carries the blood of the Old Ones is a prize to be desired - or a threat to be destroyed. . .
Locus Magazine 2002 "Recommended Reading" Selection
Booklist Magazine "Top 10 SF/Fantasy" Selection
SFBC "Featured Alternate" Selection

Buy it now at Barnes & Noble.com
Also available in print and e-book form at Amazon.com
Click here for an excerpt.
---
Praise from Charles de Lint, author of The Onion Girl:
You don't find many books like this, never mind first novels. Hetley's The Summer Country is like an old Irish whiskey - dark and smoky, abounding in flavor and detail. For the jaded reader of Celtic fantasies such as I've become, bone-weary of all the pale and limpid novels that try to pass themselves off as the real thing, it's such a treat to find a book as strong as this. The Summer Country is all the things a good novel should be: a tightly-written, resonant, single-volume story rich with flawed characters, dark visions, and quiet joys, with a whisper of true mystery, lying there in wait at the very heart of it all.
Praise from Lynn Flewelling, author of The Bone Doll's Twin:
Jim Hetley's The Summer Country is a wonderful debut novel, by turns beautiful and utterly brutal. There's nothing soft and fuzzy about this fantasy land. Hetley gives us a raw, gritty world of hard edges and merciless determination, peopled by characters who live and strive with complete veracity regardless of which side of the mystical veil they hail from. His mix of "real world" elements with the Celtic mythos is a delight.
Praise from Anne Bishop, The Pillars of The World
A well-written tale full of action, adventure, and deceit - with an unusual heroine looking for her rightful place in the world.
Excerpt from Library Journal review:
Hetley combines Celtic legend with modern-day psychological suspense to produce a hybrid fantasy reminiscent of Charles de Lint and Tanya Huff.
Excerpt from Locus review:
. . . compared to standard pseudo-Celtic fare, The Summer Country kicks butt.
Excerpt from Booklist review:
Beautiful, dark, and gritty, this first novel is a real winner.
Science Fiction and Fantasy Writers of America
www.SFF.net
Charles de Lint's Homepage
Lynn Flewelling's Homepage
Anne Bishop's Homepage
E-mail the author
Jim's LiveJournal Account
---
Backgrounds used with permission of Reed Mihaloew.
Page layout by Michael Hetley.
You are visitor number:
Home pages provided free for members by SFWA, whose site space is provided by SFF Net.