winning science fiction and fantasy novels, as well as award-winning nonfiction science books. I've put together this web page to let people know a little more about my work. If you have questions about my work that are not answered on this page, you can contact me via email.

Latest news: Adventures in Time and Space with Max Merriwell is now available as a Diesel eBook.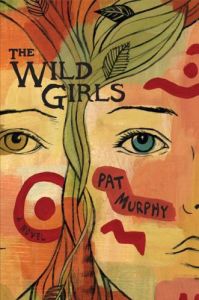 The Wild Girls is my first children's novel and my first novel that's not labeled science fiction or fantasy.
Twelve-year-old Joan is sure that she is going to be miserable when her family moves from Connecticut to California. Then she meets a girl who calls herself Fox and lives with her author dad in a rundown house in the middle of the woods. Joan and Fox become friends and begin writing stories together. The Wild Girls is about friendship, the power of story, and how coming of age means finding your own answers-rather than simply taking adults on faith.
I wrote this book for the twelve-year-old I once was. When I was a girl, I felt that I did not belong in the well-manicured world of the suburbs. Like Fox and Joan, I struggled with family issues. When I was young, I didn't meet anyone like Fox's dad Gus or the girl's writing instructor Verla Volante. But I now know that the world is filled with such people-and I've done my best to become one of them. This book came from the joy of imagining what meeting Verla and Gus would have been like when I was Joan's age.
Jane Yolen was kind enough to read and comment on The Wild Girls. She wrote:
"This novel has characters who learn to tell the truth, which is the hardest lesson of all. And along the way, they paint their faces, walk on stilts, rule over foxes, occasionally throw rocks,... and fly. I loved it."
---
---
Viking Juvenile
October 18, 2007
ISBN-10: 067006226X
ISBN-13: 978-0670062263
---
The City, Not Long After
I'm pleased to report that my third novel, The City, Not Long After, has recently been reprinted by Firebird Books. This novel is a post-apocalyptic tale of San Francisco. After a plague wipes out most of the population of the US, San Francisco is taken over by artists. They are remaking the city with their art (and a little bit of magic from the ghosts who haunt the city streets). When they are invaded by an army from Sacramento, they fight back using art.
The New York Times said of this novel, "In Ms Murphy's skillful hands, the showdown between art and power takes on mythic dimensions while remaining rooted in the vivifying specifics of character and place. No one comes out of this confrontation unchanged, including the reader."
Firebird Books
April 2006
ISBN: 0142404055
---
Some time ago, my story "Inappropriate Behavior" was published by SciFi.com. I forgot to mention it at the time, but fortunately, you can still find it in the SciFi.com archives. The story has also been republished in the 2004 Year's Best Science Fiction, edited by Gardner Dozois and published by St. Martin's Press.
---
Here are other books that I've written. Click on a title to find out more about it.
Short Stories
My short stories have been published in a variety of anthologies and magazines. I've included links to a few of my favorites.
I've teamed up with two other award-winning women writers of fantasy and science fiction: Lisa Goldstein and Michaela Roessner. In an effort to acquaint more readers with our work, we are overcoming our natural tendency to be modest and have decided to promote our work shamelessly like the brazen hussies we truly want to be. If you want to know more about the Brazen Hussies, here's a photo of us and some information about what we're up to.
You are visitor # since 15 March 2000
Update: