T. Jackson King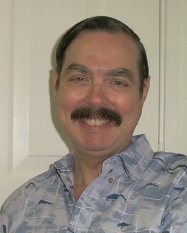 I'm a professional archeologist and graduate of UCLA (M.A. 1976) and the University of Tennessee (B.S. 1971). My published SF novels are Retread Shop (1988) and Ancestor's World (1996; with A.C. Crispin). My short stories have appeared in Analog, Pulphouse, Tomorrow, Absolute Magnitude, The Silver Web, VB Tech Journal, Expanse, Aberrations, Figment, Pandora and Midnight Zoo magazines. I write hard SF, anthropological SF, dark fantasy/horror and contemporary fantasy. In my stories, I explore questions of culture, adaptation, archetypes and individual choice. I've worked as an archaeologist in the American Southwest and have traveled widely in Europe, Russia, Japan and the United States. Other jobs have included short order cook, hotel clerk, legal assistant, reporter, and telephone order taker. In past years, I was a Tennessee hippie, belonged to the Southern Students Organizing Committee (SSOC), helped lead the first anti-Vietnam War demonstration by expatriates in Tokyo in 1968, and started up the Shinjuku Sutra, the first English underground newpaper in Japan. My three grown children are Keith, Karen and Kevin. Within the SF community, I've appeared at many cons, served as SFWA Elections Chair in 1990 and was chair of the Philip K. Dick Award jury in 1996.

Retread Shop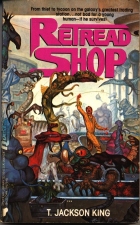 Retread Shop—an alien-controlled galactic bazaar of unimaginable wealth, rigid caste systems, and ancient cutthroat rivalries. Young Billy McGuire, its only human, was unwanted, scorned and forced to steal for his living. But now he has a patron, a mysterious alien trader and a new ambition: to become the Shop's first human Merchant no matter what the odds.
Questar/Warner Books, 1988, 276 pages, ISBN 0-445-20674-8.
Autographed copies available from the author through Basement Full of Books.
Ancestor's World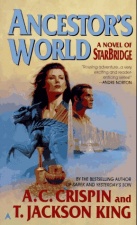 On the planet Na-Dina, in Ancestor's Valley, the tombs of forty-one dynasties have lain undisturbed for six thousand years. But with the visitors from the stars has come progress, threatening the valley and its treasures. The human archeologist Gordon Mitchell and his team from StarBridge labor to salvage whatever possible from the royal burial sites. Some of the Na-Dina welcome them. Some resent their presence and the delay to rapid industrialization they represent. Still, Mitchell intends to fully explore the wonders of the Valley before it is flooded by a giant dam. Then one of the team is brutally murdered. To investigate his death, Cooperative League of Systems Ambassador At-Large Mahree Burroughs arrives, determined to find the killer whatever the cost. What she finds during her search will change her life, the lives of the Na-Dina and the lives of every being in the CLS forever.
Ace Books/Berkeley Publishing, 1996, 304 pages, ISBN 0-441-00351-6; a novel of StarBridge.
Autographed copies available from the author through Basement Full of Books.

Reviews of Retread Shop
"Engaging alien characters, a likeable protagonist, and a vividly realized world make King's first sf novel a good purchase for sf collections."
—Library Journal
"The writing is sharp, the plotting tight, and the twists ingenious. It would be worth reading, if only for the beautiful delineations of alien races working with and against one another against the background of an interstellar marketplace. The story carries you . . . with a verve and vigor that bodes well for future stories by this author. Recommended."
—Science Fiction Review
"A very pleasant tour through the author's inventive mind, and an above average story as well."
—Science Fiction Chronicle
"Fun, with lots of outrageously weird aliens."
—Locus
"Well-written and entertaining, it could be read either as a Young Adult or as straight SF with equal enjoyment."
—OtherRealms
"I like the story very much indeed . . . because the whole technical concept of the Shop, its sheer size and raison d'etre, and the vast time-scale . . . and the adept handling of those characters and technologies . . . makes the story . . . both utterly incredible and completely believeable. That made the short hair at the back of my neck prickle and . . . it still does . . . One hell of a hard act to follow."
—British writer James White, author of the Sector General series.
"King creates for us a novel that Andre Norton might have written. The details of alien biology are evocative of Alan E. Nourse, while the intricate political plotting smacks of C. J. Cherryh lightly laced with a Niven-esque whimsey. . . The best of what fantasy readers read fantasy for . . . All of this puts Retread Shop in the newly emerging subgenre which combines the best sf logic and vision with the compelling depth and texture available so far only in the best fantasy such as Katherine Kurtz writes."
—Jacqueline Lichtenberg, author of the Sime/Gen series
Reviews of Ancestor's World
"T. Jackson King is a professional archaeologist and he uses that to great advantage in Ancestor's World. I was just as fascinated by the details of the archaeology procedures as I was by the unfolding of the plot . . . The novel opens with the discovery of artifacts from the lost colony of the Mizari in a tomb of an ancient Na-Dina emperor. This is a discovery that the modernist faction of the Na-Dina do not want getting out, and some of them will do anything to keep it under wraps. What follows is a tightly plotted, suspenseful novel."
—Absolute Magnitude magazine
"Another of A.C. Crispin's StarBridge adventures, this one fleshed out by T. Jackson King, whose work appears on the shelves much too seldom. There is a murder on the world of Na-Dina, at an archaeological dig in Ancestor's Valley where Human and other archaeologists are in the process of finding artifacts that contradict the beliefs of many of the planet's natives. The murder is only one element of the plot, but its solution winds up the story nicely. We meet several characters from earlier in the series, along with fascinating members of other races. Good cover by Duane O. Myers. Recommended."
—Norm Hartman, Book Net #10
"The latest in the StarBridge series from King, a former Rogue Valley resident now living and writing in Arizona, follows the action on planet Na-Dina, where the tombs of 46 dynasties have lain undisturbed for 6,000 years until a human archaeologist and a galactic gumshoe show up. Set your phasers for fun."
—Mail Tribune newspaper, Medford, OR
Honors
First Amendment Award, by Society for Professional Journalists, Arizona chapter, The Copper Era, 2003.
First Place, Best News Story, The Copper Era weekly, 2003.
First Place, Departmental News Excellence, Eastern Arizona Courier weekly, 2003.
First Place, Editorial Page Excellence, Courier, 2003.
First Place, News Writing Excellence, Era, 2002.
First Place, General Excellence, Era, 2002.
First Place, Best Sustained News Coverage or Series, Courier, 2001.
First Place, Community Service/Journalistic Achievement, Era, 2001.
Third Place, Year's Best News Story, White Mountain Independent, 1998.
Second Place, Editor, Special Publication, Independent, 1998.
Outstanding Journalism plaque from Show Low Regional Chamber of Commerce, 1997-98.
Community Service plaque from VFW Post 2364, Pinetop-Lakeside, 1998.
Certificate of Appreciation, Pinetop-Lakeside Chamber of Commerce, 1998-99.
Chair, 1996 Philip K. Dick Award Jury (for Year's Best paperback Science Fiction novel).
Lecturer (paid), Rogue Valley Writers Conference, Southern Oregon State College, 1994
Lecturer (paid), Medford Teen Library Sixth Anniversary Program, October 1994.
Sigma Delta Chi professional journalistic society member, Roll #51679.
Honorable Mention, L. Ron Hubbard's Writers of the Future Contest, 1988.
Honorable Mention, L. Ron Hubbard's Writers of the Future Contest, 1987.
Board Member, Anasazi Education Outreach program (Colorado), NEH-funded, 1983-1984
First World Conference on Cultural Parks, NPS-UNESCO sponsors, Technical Aide, 1984.
Lecturer (paid), Insights Into The Ancient Ones, Colorado Humanities Program, 1979.
Honorable Mention, National Science Foundation Graduate Fellowships Competition, 1975.
UC Riverside Research Grant, Dept. of Anthropology, in support of M.A. field work, 1975.
UC Riverside President's Undergraduate Research Fellowship, 1973.
M.A. in Archaeology, Institute of Archaeology, UCLA, Los Angeles, 1976.
B.S. in Communications, University of Tennessee, Knoxville, 1971.

SFWA provides free home pages for its members. Site space is provided by SFF Net.
You are visitor number since this page was published.