Related
2015 Weekend Details
The Science Fiction and Fantasy Writers of America's 50th Annual Nebula Awards Weekend will be held in Chicago, Illinois June 4 through 7, 2015. Online registration is now closed. We will be selling a limited number of at-the-door memberships.
Banquet tickets are no longer available. Nor is the tour of the Argonne
Laboratory.
Accommodations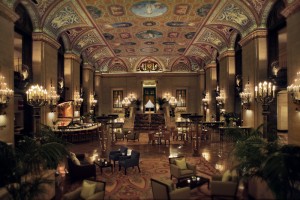 Palmer House Hilton
Address: 17 East Monroe Street, Chicago, IL 60603
Phone:(312) 726-7500
Rates
Single: $219   Double: $219
Triple: $244   Quad: $269
Palmer house is no longer accepting online reservations but you may call to reserve a room at 877-865-5321. SFWA room rate is subject to room availability and is not guaranteed.
How to Get There
A taxi from O'Hare should run about $35 and around $40 from Midway.  The hotel is also a relatively short walk (couple of blocks) from the blue line el from O'Hare or the orange line el from Midway.