Nebula Awards Weekend
The Science Fiction and Fantasy Writers of America's Forty-Ninth Annual Nebula Awards Weekend will be held in San Jose, at the San Jose Marriott, May 15-18, 2014. The Marriott is located at 301 South Market Street in San Jose, California.  Registration for the event and hotel rooms will begin in mid-January, 2014.  We are delighted to announce that Ellen Klages is our Toastmaster.
Both SFWA members and other individuals who are interested in the field of science fiction and fantasy may register for SFWA's Nebula Awards Weekend.  Attendees may participate in tours, workshops, programming and special events.  In addition, the Nebula Award Ceremony and Banquet will be held on Saturday evening, May 17th.
Attending authors will participate in a book signing on Friday, May 16th in the late afternoon/early evening.  This event is open to the public as well as to attendees of the Nebula Awards Weekend.
Registration will open January 15, 2014.
More information will be announced in December.
For information on the Nebula Awards, please see http://www.sfwa.org/nebula-awards/how-to-vote/
For general queries, please contact [email protected].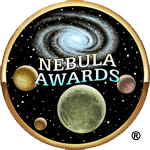 During the Saturday Evening Nebula Awards Ceremony, SFWA presents The Damon Knight Memorial Grand Master Award for 'lifetime achievement in science fiction and/or fantasy.' Previous honorees are legends Isaac Asimov, Ray Bradbury, Harlan Ellison, James Gunn, Joe Haldeman, Harry Harrison, Ursula K. LeGuin, Anne McCaffrey, Michael Moorcock, Robert Silverberg, Connie Willis, and, Gene Wolfe.
To request interviews, or for questions concerning SFWA, the award's history or the Nebula Award Weekend, please contact publicist Jaym Gates at communication@sfwa.org.
•••