SFWA's Nebula Awards Weekend
June 4-7th, 2015
Online Registration is now closed. We will be selling memberships at the door.
Weekend Membership – $120.00* (This includes all receptions, panels, some workshops and entrance into the SFWA Suite. A commemorative book bag filled with great titles is included!)
Thursday Membership Only – $50.00* (This includes reception, panels, and entrance into the SFWA hospitality suite.)
Friday Membership Only – $50.00*  (This includes reception, panels, and entrance into the SFWA hospitality suite.)
Saturday Membership Only – $60.00* (This includes reception, panels, and entrance into the SFWA hospitality suite.)
Sunday Membership Only – $40.00* (This includes programming and entrance into the SFWA hospitality suite.)
*Banquet not included. ISBA Workshop is $25.00. Please inquire at the registration desk.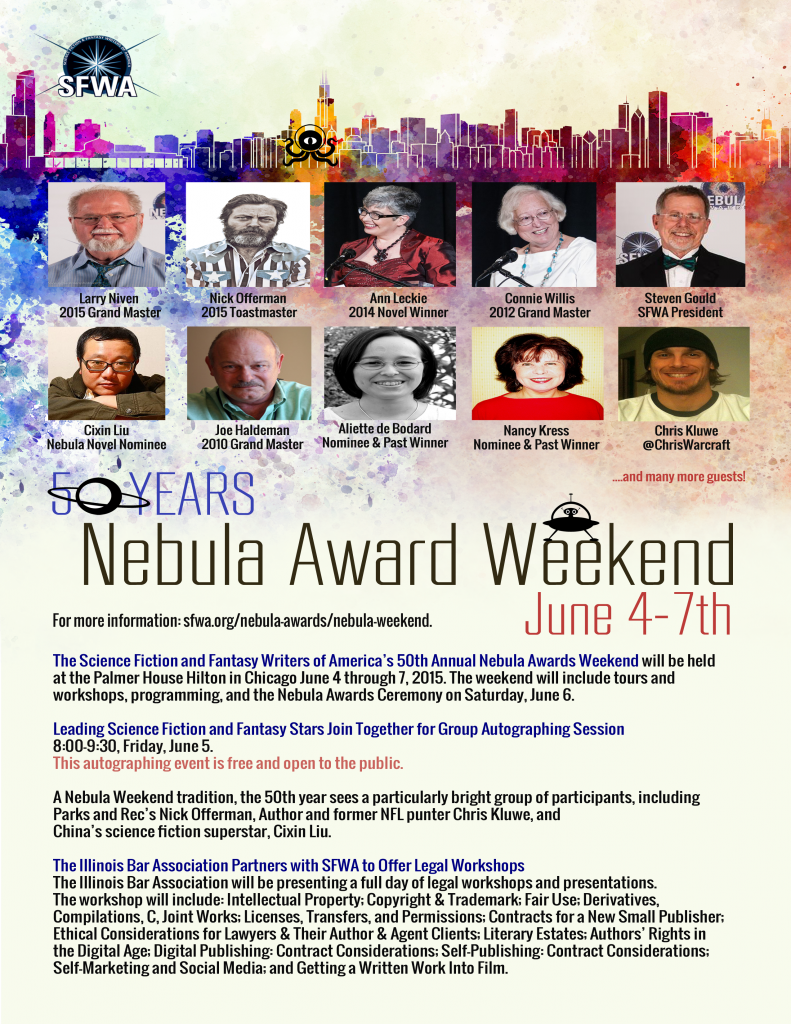 Congratulations to the 2014 nominees! View the full list of nominees.
View the full list of attendees!
Both SFWA members and other individuals who are interested in the field of science fiction and fantasy are welcome to attend SFWA's Nebula Awards Weekend.  Attendees may participate in workshops, programming and special events.  Registration & Banquet reservations are now open!
Please let us know if you have special requests for accessibility accommodation, for both on-site and off-site events. (e.g. transportation, mobility, vision, hearing, etc.).  Information provided here will be kept in the strictest of confidences.
To request interviews, speakers or for questions concerning SFWA or the award's history, please contact publicist Jaym Gates.  For other inquiries, please contact nebulaweekend@sfwa.org.
The Worldbuilders of Science Fiction and Fantasy – A Project by Photographer Richard Man
The boundlessly creative and talented authors, artists, storytellers, conrunners, etc. etc. who bring forth myriad possible worlds of speculative fiction to spark the public imagination.
Science Fiction Authors, Artists and Other Creatives: their work inspires and entertain audiences as well as inspires others to develop products that shape the future (although I'm still waiting for my flying car. :p) Who are these people?
This photo project is to take portraits of these people, perhaps posed with their most famous or loved work, taken on a 4×5 film camera.
Thursday
Programming
Nebula programming focuses on the needs of the SFWA members and will have programs on, among other topics, estate planning, furthering your career, social media and promoting your work, and special local guest experts. Thursday Programming will begin in the morning and run until the late afternoon.  View the full weekend programming schedule.
Tour: Argonne National Laboratory & Fermilab ($45) – TOUR REGISTRATION CLOSED
Argonne/Fermi:  The day will start with a docent led tour of Argonne National Laboratory. Argonne conducts leading-edge basic and applied scientific research in virtually every scientific discipline. Highlights include
Advanced Proton Source (APS)
Argonne Tandem Linac Accelerator System (ATLAS)
Argonne's Nuclear Energy Exhibit.
From Argonne we will continue with a two hour docent led tour of Fermilab. As the United States' premier particle physics lab, Fermilab works to dig down to the smallest building blocks of matter. Highlights of the tour at Fermilab include
Linac building with the first two accelerators
Linear Accelerator building where visitors see the components in pre-accelerators gallery
The neutron therapy area and the Main Control Room.
The tour will leave on Thursday morning at 9:00 am and return in the late afternoon around 4:30pm with lunch provided.  All inclusive.
(Just keep in mind that a list of names and citizenship is required for an individual to tour Argonne. All non-US Citizens will need to have a background check)
On Thursday, we are planning a day-long self-publishing workshop, requiring advance registration and limited numbers.  The workshop will discuss production, marketing, and fulfillment of self-published works, whether original fiction or republishing books and stories when the rights have reverted to an author.
Welcoming Reception
Thursday evening, we'll have a reception open to all attendees to welcome you to the 50th Nebula Award Weekend. This evening, we will be paying tribute to SFWA's newest Grand Master, Larry Niven.
Friday
Programming
Friday Programming will begin in the morning and run until the late afternoon. View the full weekend programming schedule.
Tour: Baker & Taylor ($30)
Baker & Taylor  Momence, IL:  Spend a day touring the Baker & Taylor Book Distribution Warehouse in Momence. Baker and Taylor is a leading distributor of books, videos, and music products to libraries, institutions and retailers. We'll start with a short tour of the office facilities, and be allowed to walk through the warehouse and receiving areas in the Baker & Taylor Momence, IL facility. You will learn about their natural flow processes and see their Value Added Services and learn about their cataloging and security features that they provide and will wrap up with a Q&A session. This tour does involve a lot of walking through the warehouse so comfortable shoes are recommended.
The tour will leave on Friday morning at 9:00 am and return in the early afternoon around 2:00 pm with lunch provided. All inclusive.
Authors' Rights: Identifying and Keeping Them in Today's Market – and After Death.
Friday, June 5 — A special all-day joint Continuing Professional Education Program co-sponsored by SFWA and the Intellectual Property Law and Trusts & Estates Sections of the Illinois State Bar Association, aimed at both authors and their attorneys.  Topics will include a review of rights and contract provisions, especially authors' rights in the digital age, self-publishing, and (particularly for the less well-known authors) the creation of literary estates.   Lawyer-author Scott Turow has agreed to be one of the speakers.
Please note that space in the room is limited, so early registration is strongly recommended. – More details
Mass Autographing
There will be a mass autograph session for attending authors on the Friday evening of the Nebula Awards Weekend.  This signing is open to the public as well as to the Nebula Awards Weekend attendees. If you're an author who is a member of the Nebula Awards Weekend and would like to participate, please sign up for the mass autograph session when you register for the weekend. There will be an onsite book depot run by Greg Ketter from DreamHaven Books, and it will carry as many of the attending authors' books as possible.
Friday Night Reception
Friday evening, we'll have a reception open to all attendees. Chicago area writers groups, conventions, and other organizations of interest will be in attendance to let you know what opportunities there are for authors in the Chicago area.
Saturday
Business Meeting
On Saturday morning, come and hear the officers of SFWA report on the current state of the organization, their achievements over the past year, and plans as we enter into our fiftieth anniversary year.
Programming
Saturday programming will begin after the Business meeting and run until late afternoon. View the full weekend programming schedule.
Printer's Row Lit Fest
The Printer's Row Lit Fest, sponsored by the Chicago Tribune, will be taking place the same weekend as the Nebulas only a few short blocks from the Palmer House.  If you are interested in having us pass your contact information on to the planners of the Lit Fest, please let us know.
Saturday Night Reception
Immediately before the banquet and awards ceremony, we'll have a reception open to all attendees to honor this year's Nebula, Norton, and Bradbury nominees.
Banquet
The banquet will be located in the Red Lacquer Room immediately following the Saturday night reception.  Please select one of the following three entrée items. All options are nut free (with the exception of Bertha's brownies), pork free, and shellfish free.  If you have any food allergies, dietary issues or other concerns, please provide that information.  While we will work with you to address your concerns, please note that the kitchen is not an allergy free environment.
Prime Rib:  beef, horseradish, Yorkshire pudding, and thyme au jus
Free-Range Chicken Breast: chicken, mushrooms, seasonal herbs, and pan jus
Napolean (vegan): pastry layered with sliced, marinated, seasoned vine ripe tomatoes, portabello foriestiere, saffron liason, and caramelized leek
All dinner options include:
Tomato and Mozzarella Salad:  heirloom tomato, buffalo mozzarella, organic basil, pecorino, balsamic and first press olive oil, cracked black pepper, and salt crystals
Mashed Potatoes
Seasonal Vegetable Bundle
Dessert Sampler:  raspberry mousse jar, goat cheesecake, tutti frutti tart, and Bertha's brownies (contains nuts, Bertha Palmer invented the brownie during the World's Columbian Exposition in 1893)
Coffee and Tea
Awards Ceremony
Following the banquet, this year's Nebula, Norton, and Bradbury Awards will be presented in the Red Lacquer Room as the centerpiece of the weekend.
Sunday
Volunteer Banquet
SFWA will have a volunteer appreciation ceremony and breakfast on Sunday morning, 9 AM-10:30 AM. The ceremony will last approximately a half hour and be followed by an hour of food and pleasant conversation with fellow volunteers.
Programming
View the full weekend programming schedule.
12:00 pm – 3:00 pm
"Getting A Written Work Into Film: Upfront and Behind the Scenes"
No additional charge – but separate registration is required.
The seminar will include:
The importance of copyright and chain of title in documents
How to best find a team and the importance of one
What makes a winning screenplay and a winning team
When do I need an attorney and what to look for in one
When does an accountant come into view
Do I need a business plan and what are the criteria for one
Do I need a marketing plan and for what purposes
Casting, casting directors and film commissioners: friends or foes?
Agents and managers: what works and what does not not
How to protect your investor dollar and what is available to do so
Completion bonds and insurance issues
How to move the project forward, funding issues, and 181 and 199 State incentives
Distribution
Presented by Hal ("Corky") Kessler
Corky is an attorney with Kessler Deutsch, Levy & Engel, Chartered in Chicago and an Adjunct Professor at Northwestern Law School and John Marshall Law School, Corky teaches an entertainment, transactional and law course. He previously developed a syllabus for and taught a similar course at Columbia College's Film Department.
Corky has extensive entertainment law, corporate and worldwide entertainment industry experience.  He is active in establishing and advising various film funds and film funding sources in North America and expanding internationally. In October 2012, Corky signed a Memorandum of Understanding with private investors from China for a $200 million co-production deal with China and U.S.  He has represented several authors and negotiated publishing deals with several major publishers, including Random House and Doubleday.
He has assembled and built teams for more than 30 entertainment and other business ventures. and developed, packaged and executive produced feature films, theatre projects and television projects, including "The Sum of Us," starring Russell Crowe, which won the Australian Academy Award for Best Film and most currently "Certifiably Jonathan" starring Jonathan Winters, Robin Williams, Howie Mandel, Rob Reiner, Jim Carrey, Sara Silverman, and others.
Corky regularly speaks on the business and legal aspects of feature film development and tax incentives in connection with the entertainment industry, and authored a reference book covering such federal and state tax incentives.