SFWA's Nebula Awards Weekend
The Science Fiction and Fantasy Writers of America's 50th Annual Nebula Awards Weekend will be held in Chicago, Illinois June 4 through 7, 2015.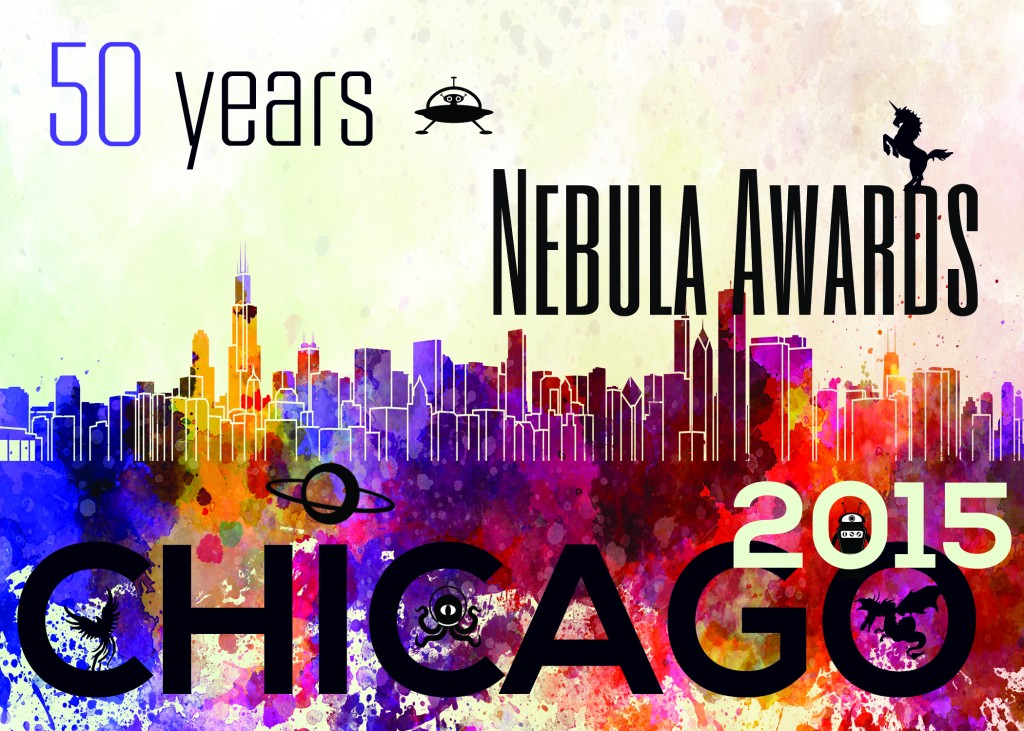 Congratulations to the 2014 nominees and winners.
Both SFWA members and other individuals who are interested in the field of science fiction and fantasy are welcome to attend SFWA's Nebula Awards Weekend.  Attendees may participate in workshops, programming and special events.  Registration & Banquet reservations will be available after February 15, 2015.
A mass autograph session, open to the public, will be held on Friday evening. Feel free to bring books from home for signatures. The signings will end at the discretion of the authors. There is no fee for this autograph session. The Nebula Awards Ceremony and Banquet will be held on Saturday evening. The times and locations will be provided closer to the event.
Forget your books at home? Greg Ketter from DreamHaven Books will be running our onsite book depot.
If you have ADA needs, please email your requirements to nebulaweekend@sfwa.org.
Previous honorees of the Damon Knight Memorial Grand Master Award for 'lifetime achievement in science fiction and/or fantasy' are legends Isaac Asimov, Ray Bradbury, Harlan Ellison, James Gunn, Joe Haldeman, Harry Harrison, Ursula K. LeGuin, Anne McCaffrey, Michael Moorcock, Robert Silverberg, Connie Willis, Gene Wolfe, and, Samuel R. Delany.
To request interviews, speakers or for questions concerning SFWA or the award's history, please contact publicist Jaym Gates.  For other inquiries, please contact nebulaweekend@sfwa.org.