Nebula Awards Weekend
The Forty-Eighth Nebula Awards Weekend will be held May 16-19th, 2013, in San Jose at the San Jose Hilton.  The Weekend will include your choice of three tours on Friday.  Borderland Books will host the mass autograph session from 5:30 p.m. until 7:30 p.m. on Friday, May 17th at the San Jose Hilton.  This autograph session is open to the public and books by the authors in attendance will be available for purchase.
 •••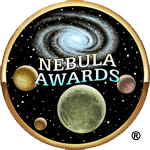 SFWA has named Gene Wolfe as the 2012 recipient of the Damon Knight Memorial Grand Master Award for his contributions to the literature of Science Fiction and Fantasy.
The Hilton San Jose is located at 300 Almaden Boulevard in San Jose, CA  95110.  Their phone number is (408) 287-2100 and the Fax is (408) 947-4488.  Please use this link to make your Hilton Reservation or, if you prefer to call or Fax, use the code NEB.  A  block of rooms has been reserved for the Nebula Awards Weekend. If you attempt to make your reservation from the general Hilton website, you may receive a message that the hotel is sold out for some of our dates.
Mineta San Jose International Airport – SJC is the closest airport to the event location. To get from the airport to the San Jose Hilton, it is recommended that you take a taxi (about $20.00). There is also a SuperShuttle available for around $15.00 but this method does take a bit longer and can make multiple stops along the way.
Three Tours are available on Friday:
The Damon Knight Memorial Grand Master Award is given by SFWA for 'lifetime achievement in science fiction and/or fantasy.' Wolfe joins the Grand Master ranks alongside such legends as Connie Willis, Michael Moorcock, Anne McCaffrey, Robert Silverberg, Ursula K. LeGuin, Isaac Asimov, Ray Bradbury and Joe Haldeman. The award will be presented at the 48th Annual Nebula Awards Weekend in San Jose, CA, May 16-19, 2013.
To request interviews, or for questions concerning SFWA, the award's history or the Nebula Award Weekend, please contact publicist Jaym Gates at [email protected]
•••
Additionally be sure to check out:
SF in SF - Science Fiction, San Francisco – A Perfect Fit – comes to San Jose!!
In conjunction with the Science Fiction and Fantasy Writers of American, and the 48th Annual Nebula Awards Weekend, SF in SF presents:
GENE WOLFE and CONNIE WILLIS
Thursday, May 16th, 2013
Each author will read a selection from their work, followed by Q&A with the audience, moderated by author Terry Bisson.  Booksigning will follow, with the authors books for sale courtesy of Borderlands Books.  This event will be podcasted, courtesy of Rick Kleffel, The Agony Column.
This event takes place at the Hilton San Jose, in the Market Room.
Doors open at 6PM – general seating
Event begins at 7PM
Nebula Award Weekend registrants: FREE
Public: $10 at the door (cash only): all proceeds will be split between theSFWA Emergency Medical Fund, and Variety Children's Charity of Northern California.
There will be a cash bar just outside the room.
For more information on this event, please email Rina Weisman at [email protected], or visit our website at http://www.sfinsf.org