RECOMMENDED READING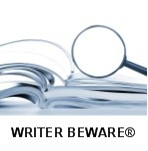 Links checked/Page updated: 2/27/11
Ten Percent of Nothing: The Case of the Literary Agent From Hell
Professor Jim Fisher takes an in-depth look at Dorothy Deering of the Deering Literary Agency/Sovereign Publications, whose long-running literary con game cheated hundreds of writers out of millions of dollars. An engrossing study of a classic scam, this book is also an excellent examination of how easily writers can become caught up in such schemes.




The Street-Smart Writer: Self-Defense Against Sharks and Scams in the Writing World
Author Jenna Glatzer and intellectual property lawyer Daniel Steven collaborated on this book, covering such matters as agents (how can you tell the good from the bad?); writing contests (how to spot the scams); vanity presses and other pay-for-publish schemes (not all of them are rip-offs); and other potentially shady elements of the business of writing. Essential reading for writers both new and established.




The Writer's Essential Tackle Box
This book by author and publisher Lynn Price provides a distinctive point of view from behind the publisher's desk, to help authors better understand publishing from the perspective of publishing professionals. It's packed with exclusive interviews from agents, editors, booksellers, and publicists, along with advice on submitting, information on the many publishing options open to writers, and a guide to the most common mistakes that lead to rejection.
Except for graphics, and where specifically indicated, all Writer Beware® contents copyright © 1998-2011 Victoria Strauss

MAY NOT BE REPRODUCED WITHOUT PERMISSION