THUMBS DOWN PUBLISHERS LIST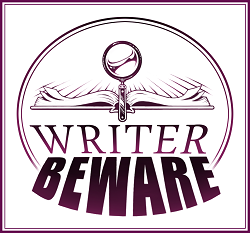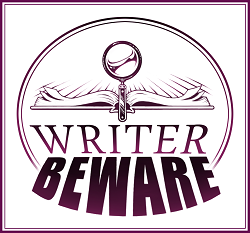 THIS LIST MAY NOT BE REPRODUCED WITHOUT PERMISSION
Below, in alphabetical order, is a list of the publishers (not all of them currently active*) about which Writer Beware has received the largest number of complaints over the years, or which, based on documentation we've collected, we consider to pose the most significant hazard for writers. All have two or more of the following abusive practices:
1. Fee-charging–whether for the actual printing/production of the book, or for some other item related to the publishing process, such as editing or publicity. Some publishers require authors to buy bulk quantities of their own books. Fees range from a few hundred dollars to more than $25,000. A nominal "advance" in the face of other fee-charging practices does nothing to legitimize such publishers.
Note that we do not include admitted vanity publishers (even very expensive ones such as Dorrance) about which we've gotten no other complaints, or self-publishing services (even much-criticized ones such as the Author Solutions "imprints"). This list includes only fee-chargers that present themselves as publishers, and actively conceal their fees, try to pass them off as something else, or claim that fee-based publishing is not the major part of their business.
2. Author-unfriendly contracts–including rights grabs, taking copyright, restrictive option clauses, sub-standard royalty provisions (including reverse-accounted royalties), inadequate reversion clauses, draconian "defamation clauses," and a host of other inappropriate and abusive contract terms.
3. Deliberately misleading advertising–including directly soliciting authors, misrepresenting services to authors in an effort to masquerade as commercial publishers, hiding the fact that they are vanity operations, and making false claims about distribution and bookstore presence.
4. Conflicts of interest–some of these publishers are the vanity "arm" of (or otherwise under common control with) a fee-charging literary agency, which directs clients to the publisher under the guise of having made a "sale"–often without revealing the financial and personnel links between the two businesses.
5. Lack of editorial gatekeeping–as befits vanity operations, many of these publishers have few, if any, standards for the books they acquire. Some don't even bother to read the books they accept for publication.
6. Poor or inadequate editing. Some of these publishers don't even pretend to provide editing. Others do little more than run the text through a spell and grammar checking program, or employ unqualified, inexperienced staff.
7. Repeated breach of contractual obligations–such as nonpayment of royalties, refusal to provide royalty statements, incorrect accounting, publication delays, ARCs not sent for review as promised, failure to ship books or fulfill orders, failure to make author changes in proofs, and failure to respond properly to author queries and communications. Some of these publishers have been the focus of successful litigation and other legal actions by authors.
While the publishers listed here account for a substantial number of the complaints we've received, they're just the tip of the iceberg. Writer Beware has files on hundreds of questionable publishers, both active and inactive.
We do update the list from time to time, as questionable publishers sometimes change their names, clone themselves, or go out of business. Be sure to check back regularly.
* Why do we continue to list publishers that aren't currently active? Because bad publishers often return under new names.
America Star Books (Frederick MD) (formerly PublishAmerica)
American Book Publishing (Salt Lake City, UT) (no longer active)
Archebooks Publishing (Las Vegas, NV)
Artemis Publishers Ltd (no longer in business–URL re-directs to Pegasus Elliot Mackenzie) (London UK)
Ashwell Publishing, d/b/a Olympia Publishing (has shared officers with Pegasus Elliot Mackenzie and Austin Macauley) (London UK)
Austin Macauley Publishers (has shared officers with Pegasus Elliot Mackenzie and Ashwell Publishing) (London UK)
Oak Tree Press (Taylorville, IL)
Park East Press (Dallas TX) (formerly Durban House, formerly Oakley Press) (may no longer be active)
Pegasus Elliot Mackenzie Publishers Ltd (has shared officers with Austin Macauley and Ashwell Publishing (Cambridge UK)
Raider Publishing International, also d.b.a. RPI Publications (former names include Green Shore Publishing, Purehaven Press, and Perimedes Publishing) (uses various addresses, but probably located in Newark, NJ)
SterlingHouse Publisher, also d/b/a as International Book Management (Pittsburgh, PA–imprints include, among others, Pemberton Mysteries, 8th Crow Books, Cambrian House Books, Blue Imp Books, Caroline House Books, Dove House Books, and PAJA Books) (no longer active)
Strategic Book Publishing and Rights Agency (SBPRA)/Publish On Demand Global (PODG) (uses various addresses, but located in Boca Raton, FL–formerly known as Strategic Publishing, Strategic Book Group, Eloquent Books, The Literary Agency Group, and AEG Publishing Group)
Tate Publishing (Mustang, OK) (collapsed in 2017, owners charged with multiple felonies)
Copyright © A.C. Crispin and Victoria Strauss