Featured Book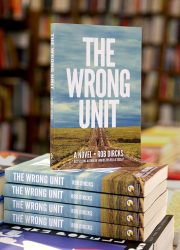 Rob Dircks, bestselling author of Where the Hell is Tesla?, has a "unit" with a problem: how to deliver his package, out in the middle of nowhere, with nothing to guide him. Oh, and with the fate of humanity hanging in the balance.
Featured Member
Marshall Ryan Maresca
Marshall Ryan Maresca is a fantasy and science-fiction writer, as well as a playwright, living in South Austin with his wife and son. He is the author of The Thorn of Dentonhill and A Murder of Mages.