Featured Book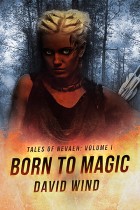 Long ago, a mythical nation known as 'America' died in the violence and radiation of the terrorist wars. Now the survivors dwell in a world of ritual and magic where ten dominions struggle for supremacy while a dark power rises to threaten them all.
Featured Member
Dave Creek
Dave Creek is a regular contributor to ANALOG. His books include two short story collections — A GLIMPSE OF SPLENDOR and THE HUMAN EQUATIONS — and a novel, SOME DISTANT SHORE.
Find out more about Dave's work at www.davecreek.net.