Featured Book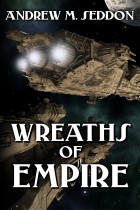 The ultimate weapon.
The peace of the galaxy.
One woman.
Naval Intelligence Commander Jade Lafrey uncovers a conspiracy that could devastate either human worlds or their alien enemies'.
Featured Member
Jeffe Kennedy
Jeffe Kennedy is an award-winning author and scientist. Her works include non-fiction, poetry, short fiction, and novels. She lives in Santa Fe, NM, with two Maine coon cats, plentiful free-range lizards and a handsome Doctor of Oriental Medicine.
Recent Comments