Nothing found
Featured Book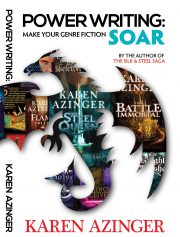 Learn how to write bold genre fiction that will enthrall your readers. Novice writers learn about 'tells' that warn agents of amateur writing. Veterans discover the flavors of world building and description from the eye of the beholder.
Featured Member
Dave Creek
Dave Creek is a regular contributor to ANALOG. His books include two short story collections — A GLIMPSE OF SPLENDOR and THE HUMAN EQUATIONS — and a novel, SOME DISTANT SHORE.
Find out more about Dave's work at www.davecreek.net.
Recent Comments