Posts Tagged 'Aimee Amodio'
Industry news and member news for Aimee Amodio!
Featured Book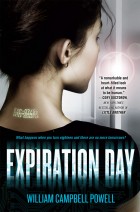 In 2049, nobody can have kids. Well, almost nobody. And nobody knows why. So I'm a real rarity. A real girl. Most kids are just robots. Good enough to fool the maternal instinct. Good enough to stop the riots. Good enough to play with. Sometimes.
Featured Member
Anna Kashina
Anna Kashina is a Russian-born fantasy author of the Arabian-style "Spirits of the Ancient Sands" series (silver medalist in the ForeWord Magazine Book of the Year contest, and "The Majat Code" series upcoming from Angry Robot in 2014.