Posts Tagged 'Aimee Amodio'
Industry news and member news for Aimee Amodio!
Featured Book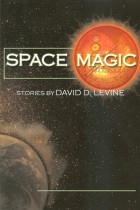 This award-winning collection pulls together 15 critically acclaimed SF and Fantasy stories that take readers from a technicolor cartoon realm to an ancient China that never was, and from an America gone wrong to the very ends of the universe.
Featured Member
David D. Levine is the author of over fifty published SF and Fantasy stories. His work has appeared in markets including Asimov's, Analog, and F&SF and has won or been nominated for awards including the Hugo, Nebula, Sturgeon, and Campbell.