Posts Tagged 'Aimee Amodio'
Industry news and member news for Aimee Amodio!
Featured Book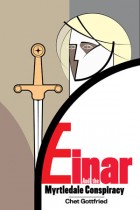 Sixteen-year-old Einar goes to Myrtledale and into a whirlwind of tournaments, assassins, and Barbara Bloodbath's plan for a new ice cream parlor. The tournaments and bake-off contest may end in civil war before any winners are declared.
Featured Member
Charles E. Gannon
Chuck Gannon's novels include National&Wall Street Journal Bestsellers, with shorter works appearing in magazines/anthologies. A Distinguished Prof. of English and 3-time Fulbrighter, his "Rumors of War and Infernal Machines" won the ALA Choice Award