Posts Tagged 'Angel Leigh McCoy'
Member News for Edward Willett, Holly Black, and Angel Leigh McCoy.
Featured Book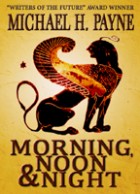 The young sorceress Larissa Noon believes that Andeer's Goddess Queen, banished 500 years ago before the mad sphinx could destroy the world, is now cured and ready to return from limbo. Larissa's the only one who believes this, though…
Featured Member
Don Sakers
Don Sakers is the author of the Scattered Worlds Mosaic series. He's explored the thoughts of sapient trees, brought Carmen Miranda's ghost to Space Station 3, and beaten the "Cold Equations" scenario. His book review column appears in Analog.