Posts Tagged 'anticipation'
Anticipation is pleased to announce the Hugo winners for 2009.
Featured Book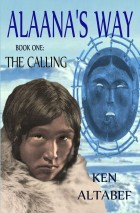 When Alaana is called upon to become shaman for her Anatatook people she faces vengeful ghosts and hungry demons in this epic adventure set in the arctic wastes. Book One of Five.
Featured Member
Teresa Frohock
Teresa Frohock is the author of the dark fantasy Miserere: An Autumn Tale and numerous short stories. Currently, she lives in North Carolina. She has long been accused of telling stories, which is a southern colloquialism for lying.