Nothing found
Featured Book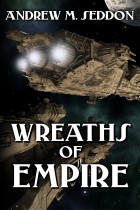 The ultimate weapon.
The peace of the galaxy.
One woman.
Naval Intelligence Commander Jade Lafrey uncovers a conspiracy that could devastate either human worlds or their alien enemies'.
Featured Member
Craig DeLancey
Craig DeLancey is a writer and philosopher. His novel, Gods of Earth, is published by 47 North Press. He teaches philosophy at SUNY Oswego.
Recent Comments