Nothing found
Featured Book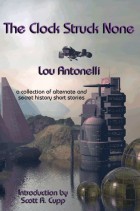 A collection of alternate and secret history short stories. From airships lost between universes, to golems winning the fight against racism, Lou Antonelli explains ways the world might have been. Includes Sidewise Award finalist "Great White Ship".
Featured Member
Alma Alexander
Alma Alexander is a novelist, anthologist and short story writer who currently shares her life between the Pacific
Northwest of the USA (where she lives with her husband and a cat) and the wonderful fantasy worlds of her own imagination.