Nothing found
Featured Book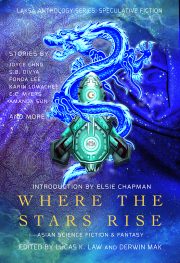 Take a journey through Asia and beyond to explore about identities, belonging, and choices.
". . . this collection is essential for anyone interested in the diverse and engaging possibilities of fantasy and science fiction." — Booklist
Featured Member
Brian K. Lowe
Brian K. Lowe is the author of the Stolen Future trilogy, the adventures of a 20th Century soldier trapped in the far future, hunted by those who want the secret of time travel. He has also written a primer on securities fraud for average investors.